Wrestlers prepare incoming talent
A brief look into the Wrestling Season from the perspective of the wrestlers.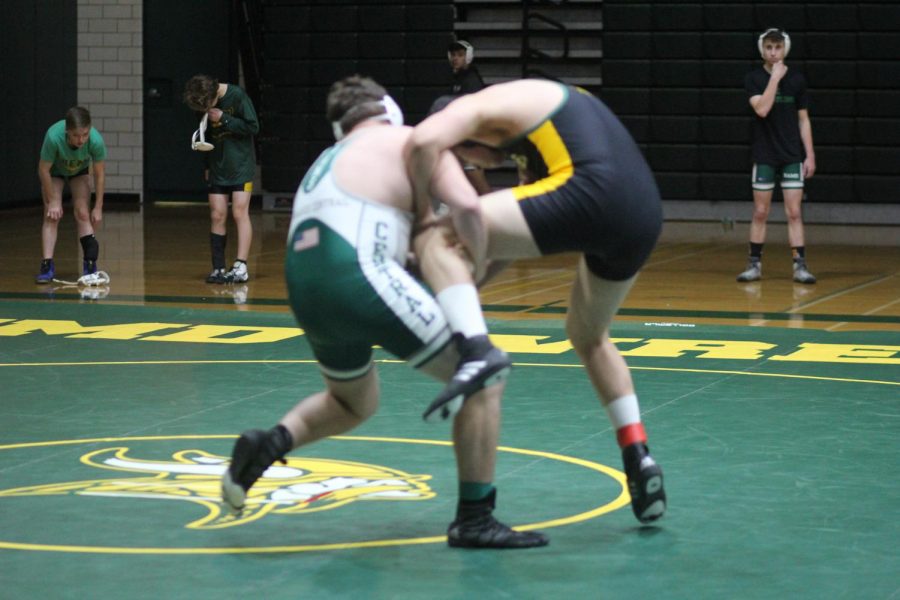 This year there were many new additions among the returning wrestlers, most notably Aaron Cramer, a wrestler in his freshman year at Central. He qualified for state four times in his middle school.
"I do think a couple people on the wrestling team […] have a chance to make it all the way to state this year," said junior Jonathan Trudeau with enthusiasm.
Jayson Weidman, a state alternate from last year said, "I think that our team has improved drastically. It's going to be hard without our state placers, like Alex Cramer… to fill in his leadership."
Weidman said that he hopes that, in addition to new leadership, "[the team] get[s] more guys coming in. We have a lot of teams in our conference that are upwards of 50 to 100 guys. We're maybe close to 40. We've always had the numbers disadvantage over the past years, so hopefully that changes."
In regards to team atmosphere, Trudeau said, "Our team's atmosphere is all positive. We are always hyping each other up at practice and making sure we all push each other to the max every practice." The head coach, Matthew Joseph, has reportedly added more cardio to the team's physical training, in an effort to increase the wrestlers' stamina.
The first wrestling competition of the season was on Nov. 26 at Fremd High School. Central started off strong, beating Lake Zurich 39-18. Central lost to Fremd in a rough duel ending 45-30, and Huntley 57-19.
At the Ted DeRousse invitational, Central's first invitational, Grayslake Central came in 10th place out of 18 with an overall score of 209.5 points.
Individually, Adrien Cramer won 1st place in the 182 Weight Class, Weidman won 2nd place in the 120 weight class. Joey Jens made 4th place in the 170 weight class, and Aaron Cramer took 7th place in the 152 weight class.
While Central did endure several setbacks at these first two invitationals, the team won their Dec. 5 meet at Central against Grayslake North 41-33.