Recruiters scout for military
Military recruiters help students with post high school plans.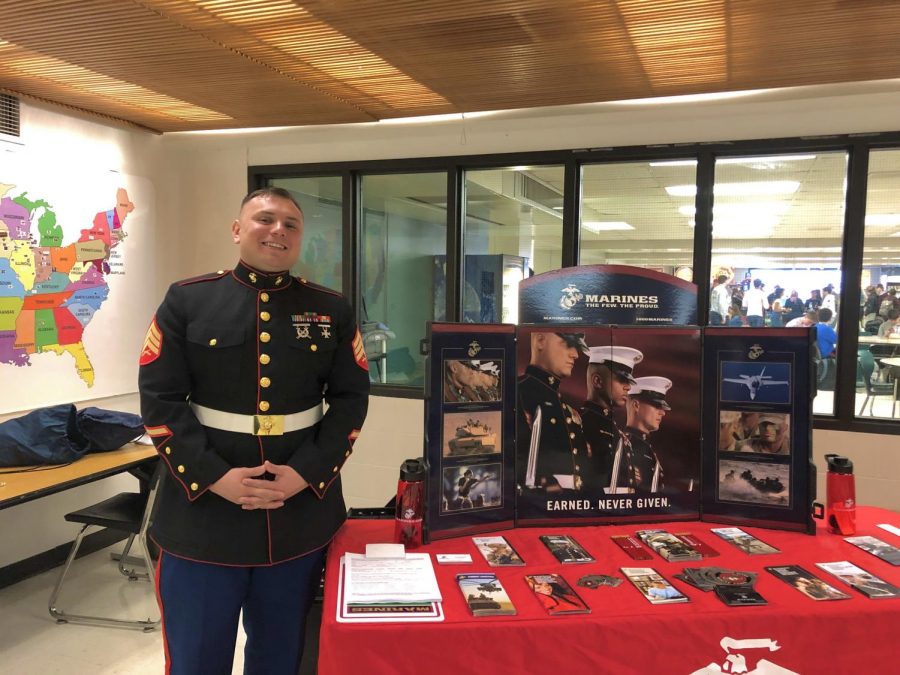 What do you want to do after your high school career? For several, their post high school plans involve joining one of the many branches of the United States military. This career would not be possible without our school's devoted recruiters. Representing the Army, Marine Corps, Air Force and Navy, these recruiters make sure students are aware of all opportunities the military has to offer.
College and Career Center Director Noel Mercure helps students plan and be prepared for the future. Mercure often works with recruiters to arrange dates and times for recruitment at Grayslake Central. "These people that are recruiters are so gung-ho, dedicated and just love what they do. That's why they get into recruiting. They're very enthusiastic, not just about their branch of the military, but the kids that they work with."
This sentiment is voiced by many of the recruiters. Sgt. Jorge Toledo of the Marine Corps. enlisted to be a role model for students.
"I really looked up to my recruiter. In life, we have a lot of influencers, and one of my biggest influences was my recruiter. He was a very confident person, so whenever I would see him, I would think, 'I want to be just like that guy.' Now that I have the opportunity to be a recruiter, I get to help people get to where they want to be in life," said Sgt. Toledo. 
Toledo shares what he does in order to encourage students to consider the military.
Toledo, like many recruiters, is ecstatic when someone shows interest in the military, even going as far as to consider it his favorite part of the job.
"Engaging with everybody is the best part of recruiting. I get to let everyone know that I used to be in high school too. I was seventeen, eighteen at one point. Now, I'm twenty-six, so it hasn't been very long, and I've already gone and done so many things in the six years I've been in the Marine Corps."
Toledo shares his belief on why students should consider enlistment.
"The number one reason for me is for free college tuition. It's also great for people who need structure." said Sgt. Toledo.
Senior Tristan Burch, who is currently considering becoming a member of the U.S. Navy, also views college as a key reason for joining.
"They help with the education, they make it free, [and] they provide it all for you. You also get good medical benefits. Those really are the main two. But if you do 20 years, you get a pension along with the free medical." said Burch. 
Burch believes that his recruiters were important to his journey. "I just started talking to recruiters and they have really helped out a lot. They helped me figure out what I want to do in the Navy." said Burch.