Chicago elects first ever openly gay black female as mayor
Lori Lightfoot made history as the first openly gay, black, and female mayor.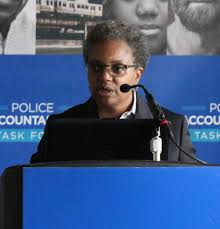 On April 2 2019, voters elected Lori Lightfoot to be Chicago's first ever African American and openly gay female in office as mayor.
The other candidate, Toni Preckwinkle, is a former teacher and Cook County Board President in Cook County, IL. Lightfoot is a former President of the Chicago Police Board. Both ran as Democrats, and Lightfoot won with 74% (The Chicago Tribune).
According to The Chicago Tribune, Lightfoot's campaign was built on a platform of change and reform for the people, which resonated with voters and led to her victory. Lightfoot plans to take business in Chicago in a different direction, focusing more on neighborhood investment and small companies as opposed to bigger companies, like Chicago has in the past.
"[Lightfoot] pledged to continue the development downtown, but work 'even harder' to bring investment to struggling neighborhoods on the West and South sides by fostering small business growth." The Chicago Tribune reported.
Because Mayor Rahm Emanuel was very pro-business for his eight years in office, the Chicago business community has mixed ideas on Lightfoot's stance, according to The Chicago Tribune.
Despite the business community's opinions, Lightfoot is breaking the mold of mayor since she's making history.
"Both candidates have discussed challenging the status-quo in a variety of ways, and I think the fact that [this election] will be a historic first for Chicago [will] certainly support this anti-status quo notion," said history teacher Adrijana Bisevac.
Bisevac also explained that because Chicago is the third largest city in the USA, the history of this election will set an example for the rest of the country, and she mentioned that she believes that the historical significance extends beyond Lightfoot's race.
Finley Campbell, a spokesman for the Chicago-based Unitarian Universalist Multiracial Racial Unity Action Council, told Richmond Free Press about what was historically significant for him.
"[She] reached out very successfully to the white ethnic community, where you have traditional Polish, German, Irish-type people. There's also a connection to the firefighters and police department, and working-class people. Her ability to say 'I will represent you, too,' accounts for it being successful." said Campbell.
Lightfoot is one for the people and is going to focus on making the lives of the people in Chicago better, in that they are more financially supported.
"We need to make sure we are out there with job training, everything we can to drive down unemployment, make sure kids aren't living in poverty, good schools, this really does take a multi-faceted approach,"  said Lightfoot to FOX News.