CPGI Bounces Back for 2022 Shows
Encore! is back this spring with its competition contest play and group interpretation shows after a year-long lapse due to COVID-19 restrictions. The company–jointly called CPGI–has been preparing two new shows to bring to IHSA sectionals at the end of March, and home shows on Mar. 11 and 12. 
 The contest play, directed by Lauren Tracy, is a rendition of "Antigone Now," a retelling of a Greek tragedy. CP is focusing on developing a team mentality and fostering a positive experience for its members on top of competing for a place in the IHSA sectionals.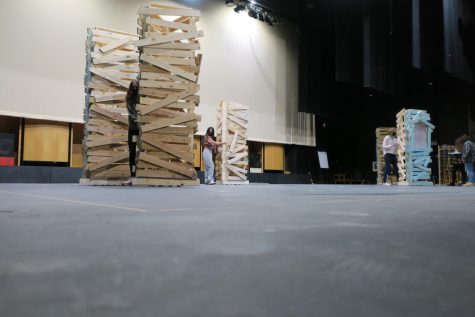 "We missed a year of developing skills, developing that team mentality that is so important…so for me, it's all about actually being with the students and figuring all this out; how do we have a good time, make great theater, and have a good experience," Tracy said.
Tracy's goals for the production have pushed actors like junior Ava Bruce to create lasting bonds throughout the show's preparation. Bruce is the lead of "Antigone Now," and plays the title character. She was already close with her castmates, but the CPGI experience has strengthened those friendships.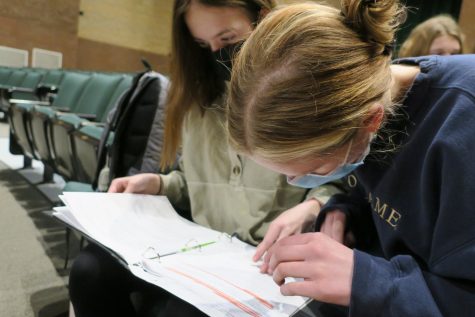 "You're there to act and you're there because you love it. But at the same time, the people that you meet make these experiences… so continuing those bonds is my favorite part of it," Bruce said. 
Although the focus for Tracy is to create a positive bonding theater experience, the competition piece is still important to ensure the company can compete at the state level.
"I think my mindset has been 'how can I showcase all the talent that I have?'…'How do I show the judges what all of these actors can do and how they're working within the script, and the movement and the blocking that I've planned to show their best talents?' 'So when can they have those really dramatic moments, those interpersonal relationships within the dialog-how can that all be showcased to them in that 40 minute window?' I've tried to play up everybody's strengths," Tracy said.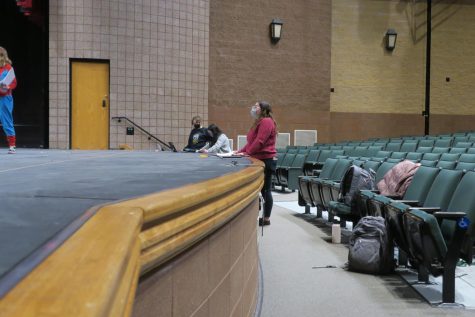 Encore! is split into two separate companies. CP, which stands for contest play, differentiates itself from the group interpretation, GI, mainly through its content; CP is more of a traditional play, while GI is more group focused with a minimal set and less character interaction. The group interpretation, directed by English teacher Maureen Ritter, is a rendition of the movie adaptation of the traditional board game "Clue," a murder mystery with an eclectic cast of suspects.
The differences between CP and GI are visually obvious in the unique acting styles and set design, with GI utilizing more contemporary elements as well as subtle unique processes in its production.
"This is something that an audience wouldn't be able to tell, but for actors in the process, we're sort of building the script as we go. So they're getting pieces of the script, like two to three pages at a time instead of 'here's this one big script.'…So if I can, if I see that they're really good ensemble choral work, I can add more of that in as I'm writing the script or if I see that they're really struggling with physical movement, I can lean away from that until we practice a little bit more," Ritter said.
Senior Amanda Barry, who portrays Mrs. Peacock, is entering this year's GI as one of few students who went to the IHSA sectionals and state competitions three years ago before the COVID shutdown in 2020, so her and others' expertise in creating the GI show is valuable to introduce the different approach GI requires.  
"As a senior, the main responsibility is being someone that everyone can feel comfortable around, since I and a few others are the only ones who have had experience in this particular group interpretation setting. It didn't happen last year due to COVID. There is a lot on us about teaching the little intricacies to the underclassmen about how and what it really means to put on a group interpretation," Barry said. 
Because of the lapse in competition for two years, both casts are prepared and incredibly excited to perform their shows and compete this year, especially at sectionals. For the students, sectionals provide an opportunity to perform as well as to learn from other theatre companies. The camaraderie between actors at the competition has been a missed experience to connect with other student thespians at various schools.
"I am looking forward to sectionals because the last time I went to them my freshman year was such a fun experience. Not only do you get to perform, but you get to go watch other people's performances…. And then at the award ceremony, when they announced [them] at the end, you just connect with all these people across the state… and they usually play music and everyone gets up and dances on the stage, and it's just a really fun time," Barry said. 
For both the home shows and sectionals, performing these hard-worked shows provides a sense of closure this year from the COVID shut down frustrations. 
"I think we're all really looking forward to just being able to get it in front of an audience to kind of put that chapter behind us… I'm really looking forward to that and then actually being able to travel it to sectionals…I'm just mostly excited to get there and just feel like we're back in it. There's a sense of normalcy again," Ritter said.