Grayslake Central cruises by Woodstock
Girls varsity basketball is now 6-1 on the season
The Grayslake Central Rams defeated the Woodstock Blue Streaks 52-26 on Saturday, Feb. 27.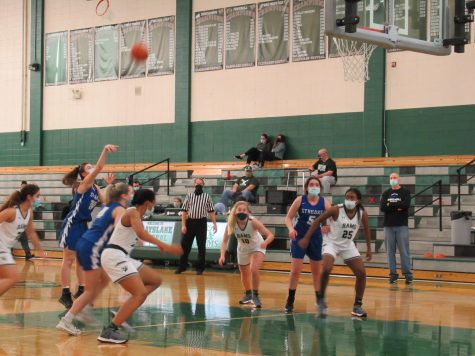 The Blue Streaks started off the game hot with a 6-0 run. However, a layup from freshman forward Tahj Bloom quickly got the Rams into their groove. Junior guard Monica Schleg hit a three, to put the Rams up 11-10 with 20 seconds left to go in the first quarter.
"We got off to a somewhat slow start, our shots just weren't falling," said senior guard Mary Katherine (Mk) Drevline, a Denison recruit. "Coach Ikenn told us to keep getting good looks and control the tempo of the game," said Drevline.
Woodstock made it a close game in the first half trailing Grayslake Central 19-12. However, the Blue Streaks seemed to struggle with the Ram's full-court press, which gave the Rams all the momentum they needed.  
"Defensively, we started talking, and we started to get more steals in the process," said Bloom.
The Rams outscored the Blue Streaks 21-10 in the third quarter. Central's varsity head coach Steve Ikenn cleared his bench and a total of nine players got on the court for the Rams in the second half.
Forward Natalie Morrow and guard Ceila Tafoya combined for 14 of the Blue Streaks 26 points.
Bloom led the Rams with 17 points, Drevline had 12, and Schleg added 11. 
"Overall, I think that we played great, and we worked as a team to get the win," said Bloom.
The Rams will go to take on the Antioch Sequoits at home on Tuesday at 7:15.