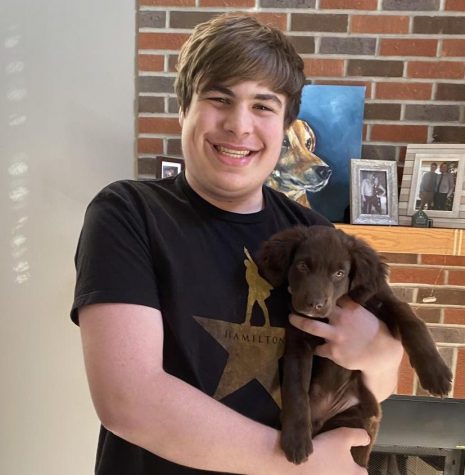 What grade are you in, and how many years have you been with Rampage? I am in my senior year of high school, and this is my third year on the Rampage staff.


If you could only listen to one song for the rest of your life, what song would it be? Well, I wouldn't want to listen to one song for the rest of my life, because that would quickly get annoying. If I have to pick one, though, it would be "Waving Through a Window" from Dear Evan Hansen; my favorite song from my favorite musical.


What is your dream job? I really want to go into television writing after school.


What are five things you can't live without? I couldn't live without chocolate or pizza, my two favorite foods. I also always need some outlet to write, because I have a lot of thoughts I need to get down. It's also barely an exaggeration to say that TV shows and YouTube videos are the main things that keep me sane.


What are your goals for this year? As a reporter, I want to help keep the student body informed, especially in these times of misinformation and confusion. As an editor, I want to help my staffers improve their writing and be the best journalists they can possibly be.


Caden Moe, Opinion Editor
Nov 23, 2020

Doomscrolling negatively impacts mental health

(Story)

Oct 22, 2020

Ruth Bader Ginsburg honored after death

(Story)

Sep 18, 2020

Why Mask Wearing is Necessary

(Story)

Sep 18, 2020

"Encore!" is Forced to Adapt to a New Reality

(Story)

May 20, 2020

eLearning leads to finals cancellation

(Story)

Apr 30, 2020

Administration combats eLearning challenges

(Story)

Apr 09, 2020

CPGI has been canceled

(Story)

Mar 11, 2020

Meet the state wrestlers

(Story)

Mar 11, 2020

Lockers should be optional

(Story)

Feb 12, 2020

Disney remakes fail to impress

(Story)

Feb 12, 2020

Boys bowling strikes

(Story)

Dec 12, 2019

Transition changes offer full lunch to freshmen

(Story)

Nov 01, 2019

Debate team continues massive trophy streak

(Story)

Oct 31, 2019

Argument against vaccines has no leverage

(Story)

Oct 07, 2019

Future teachers club introduced

(Story)

May 17, 2019

Endgame concludes Marvel Cinematic Universe

(Story)

May 17, 2019

Summer movies generate excitement

(Story)

Apr 23, 2019

Lanyard policy changes for 2019-2020

(Story)

Feb 21, 2019

Students should have lunch periods

(Story)

Dec 18, 2018

PSP helps the homeless in annual event

(Story)

Nov 25, 2018

NAHS intends to paint a mural in the annex

(Story)