Transition changes offer full lunch to freshmen
If freshmen meet certain criteria, they can are allowed to skip out on transition for the quarter.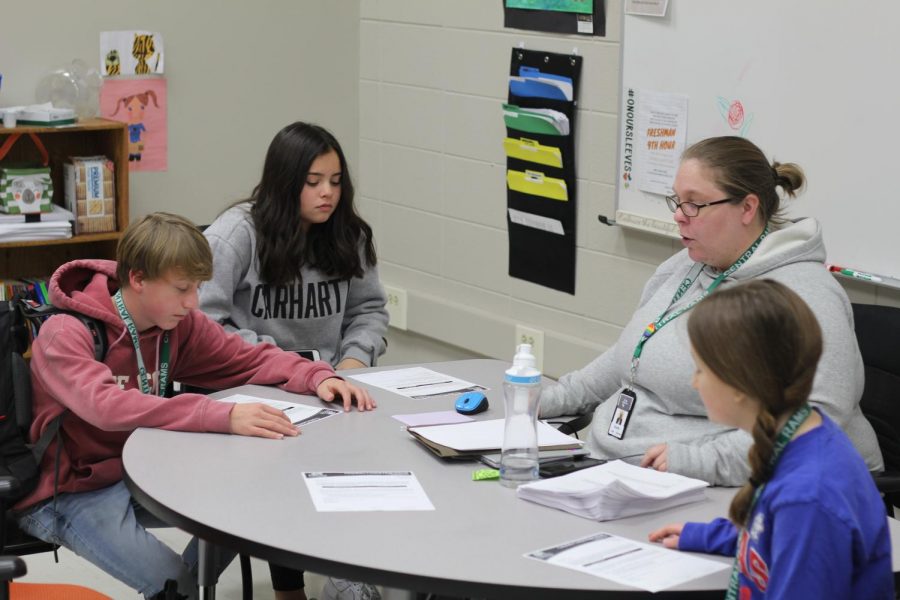 Anybody who has been a freshman at GCHS knows about transition- the other half of a freshman's lunch period, used as a study hall or for RAMP mentoring. However, many freshmen have a full lunch hour rather than transition this year.
     While transition has been a mainstay for a long time, some students still needed more 1:1 support and attention. 
     "We made the change to identify students that we could help get to grade level and use that time and opportunity to be able to work with them more," said RAMP coordinator Renee Schaal.
     For a freshman to gain a full lunch period, they must meet two of the following criteria: being at benchmark on the PSAT, getting a grade level score on the STAR reading and math tests, and passing the four core classes.
     "That's the criteria that the AIM program and the administrators have identified as evidence of a solid academic foundation," said Kevin Farrell, Academic Intervention coordinator . "If you fulfill two of them, you should be in good shape going forward without additional support." 
     The criteria will be re-evaluated at the start of every quarter to make sure that freshmen do not fall behind on their education.
     "We want to communicate to the freshman class the importance of monitoring your own success, and being able to use the resources in the building," said associate principal for curriculum Barbara Georges. "We're trying to teach those skills, and we can do that better by having them move in and out of the program based on how they're using these supports"
     The change allows all freshman in transition the chance to have one-on-one time with their RAMP mentors and gives the students without transition more freetime.
     "If you've exited the program, now you have 50 minutes every day, where you can be going to the MARC or the write room. If you didn't exit the program, you still have transition time where you're either meeting with a reading and math interventionist or your RAMP mentor," said Farrell.
     Upperclassmen may be upset that this change was not made by the time they were freshmen, but it should be emphasized that it likely could not have been implemented before this year.
     Farrell said that "it would have been hard to do in the past because you didn't have programs like AIM in place that could have provided the support for it. RAMP looked different years ago through the LINK crew program." 
     Currently, about two thirds of the freshman class have a full lunch period, and it is planned to be a permanent change in order to best support students.