Human's Life-changing Best Friend
"A dog is the only thing on earth that loves you more than you love yourself," said American humorist, Josh Billings. As a dog owner, I can concur with Billings knowing that dogs can love their owners unconditionally. Dogs have been man's best friend for over 15,000 years according to CBS, and have evolved from wolves.
Social studies teacher, Heather O'Connor, has been a dog lover even before she had her first dog at the age of 24. She also recalled that she always loved guinea pigs and had a fish in her early years.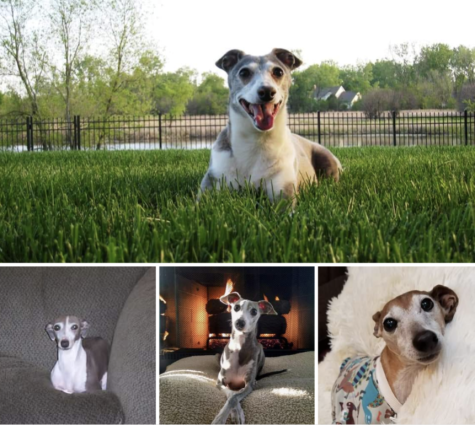 O'Connor does point out how dogs are something special within the world of pets. "I think that dogs lend themselves to being a little bit more social and connecting with humans, in terms of being able to cohabitate with you in your living space instead of like, in a cage or something like a guinea pig. I still feel like they're both beings that feel that can love, that can show affection, but I just feel like the connection between humans and dogs, because of the cohabitation, is just what separates them now," O'Connor said.
Cafeteria monitor, Colleen Spoden, describes her relationship with her dog as loving and very affectionate from her dog, Cashel. "He hates the noise of cars on main roads so only walks in our neighborhood but enjoys being IN a car. I have to drive him to the forest preserve for walks!" Spoden said.
Spoden said how the unconditional love and protection that her dog provides her has helped her emotionally and mentally. Spoden, like O'Connor, believes that dogs have the ability to be close to humans in ways other pets may not. "My relationship with Cashel is remarkable as he is very close to me and loves my homemade brown bread!" Spoden said.
Due to the unconditional love that dogs give, it is hard to not consider them part of the family, which is how O'Connor has felt for the four Italian greyhounds, Jordan, Addison, Walter, and Floyd, that have been a part of her life.
"Jordan was my husband's dog when I first met him. I was lucky enough to be his mom for 15 and a half years before he died at 18. Then we adopted Addison from a puppy mill; she was in a very abusive situation. And we had her for about three or four years until she passed away. Then most recently, we've had Walter and Floyd. And so Walter is 16, and Floyd, we just lost last month and he was almost 16," O'Connor said.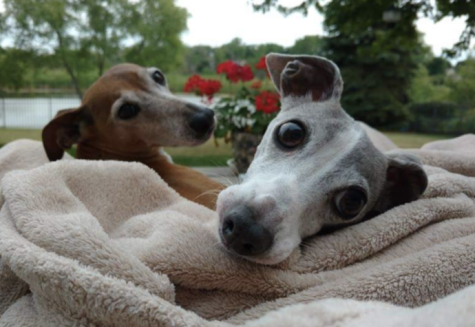 "So when we said goodbye to Jordan, it was very difficult. Kevin had been with him since he was a puppy so for 18 years, like Kevin's son, and so he really became my son… We only had Floyd for about seven to eight years because we adopted him when he was eight. He was a member of our family. We spent a lot of money on him to keep him healthy with surgeries and cancer treatment. He was so good to me. I was never one to want to go on walks or exercise, but he needed it and so we did our daily walks. So it's a big void not having him there. And still, it's been about five weeks and you can ask my husband if I still have bouts where all of a sudden it'll just make me cry. Today, my Google Photos was like, remember the moment and it was like multiple pictures. And it made me teary eyed but I'm smiling more," O'Connor continued.
O'Connor described how becoming a mother to dogs has shaped major moments and decisions in her life. Whether that be the decision not to eat meat due to seeing how her dogs are animals themselves to choosing not to have children of her own based on the relationship she had with Jordan, Addison, Walter, and Floyd.
"The way we spend our time and the way we travel and give to charities has absolutely changed based off of the dogs and how important they are in our lives and a lot of valuable life lessons I've learned, but then also life decisions I've made have absolutely based off the love that I've gotten from my pups," O'Connor concluded.
Both Spoden and O'Connor agree that dogs deserve our love and companionship. They are worth the appraisal for the moments they create with their loved ones. Dogs are meant to be cherished, for they love without doubt.
Leave a Comment