Pearlman Takes Over Rams Football
A new presence will grace the sidelines of Eiserman Field this fall.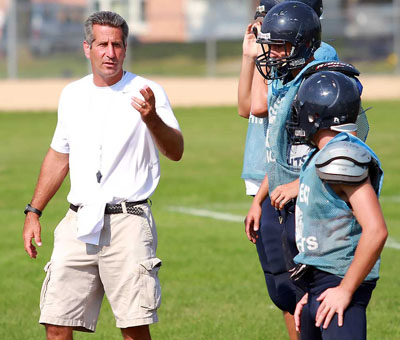 A new presence will grace the sidelines of Eiserman Field this fall.
On March 24, 2023, the Grayslake Central Athletic Department confirmed the hiring of "the legendary" Brent Pearlman as the Rams' newest head football coach. Pearlman brings an extensive coaching resume to the school, and looks to build upon the impressive track record set by outgoing head coach Mike Maloney. Maloney's coaching career at Central produced the first winning coaching record in at least 35 years, and back-to-back playoff berths for the first time since the 2010/2011 seasons, under head coach Nicholas Goshe.
Pearlman, described by colleagues as a "Future hall of fame coach," will be reclaiming the role of Head Coach, after a one-year stint at Elk Grove High School as an Assistant Coach. Prior to that, Pearlman served as defensive coordinator at Fremd High School, head coach at Wheeling High School, assistant coach at Lake Zurich High School, and arguably most famously, as head coach at Prospect High School from 1999 until 2011, where he led the Knights to three state titles in four years, 10 playoff berths in 12 seasons, a playoff record of 23-7, and an undeniable record of 103-34.
Pearlman will make his Grayslake Central debut on Friday, August 25th as the Rams take on the Pirates of Bolingbrook High School.