Photo Essay: Veterans Day 2022
Grayslake Central's vibrant Veterans Day traditions continued this year, featuring Captain Tyler Thomsen of the U.S. Marine Corps as keynote speaker.
Grayslake Central High School has a deep connection with the military community. From our district administration to members of our students' families, GCHS has many veterans in our community for whom we are grateful.
Grayslake Central has made an effort to make Veterans Day an opportunity to celebrate the service members who are invaluable parts of our school community.
On Nov. 11, the student body assembled in the field house for a speech from US Marine Corps Captain Tyler Thomsen. Thomsen covered many topics in his speech, but his concluding call to action was by far the most impactful. Thomsen left students with three ways to honor veterans everyday.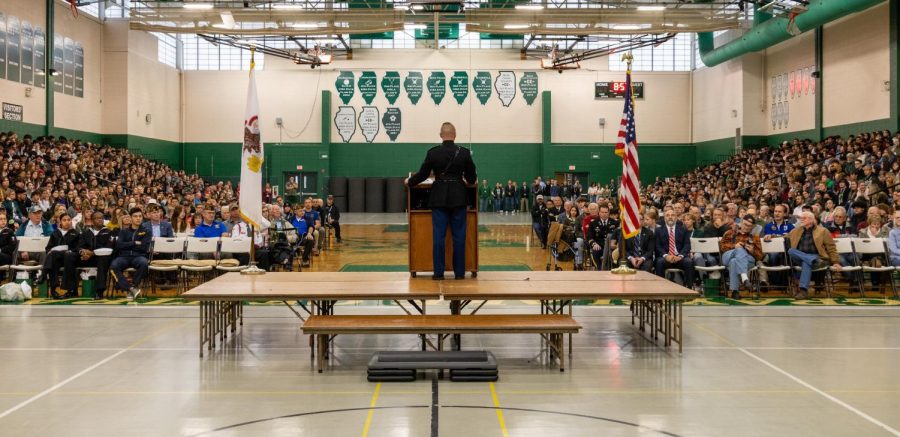 The first, young people must take an active role in government; voting is one of the most basic freedoms for which our veterans have fought.
Second, say thank you. Thomsen reminded students that not all of our veterans were fortunate enough to come home during a time that welcomed veterans back with open arms. Taking a moment to give a veteran a heartfelt thank you has the potential to change their day.
Finally, Thomsen reminded students to take advantage of the time we have left with veterans who served in the last century. Each year fewer and fewer veterans from notable conflicts and each decade of service remain, particularly World War II. Taking time to listen and learn from their experiences is the best way to honor their sacrifice.
Thomsen's message reminds us that, even though Veterans Day only comes around once each year, gratitude for our service members can be practiced year-round.