PSP prepares 2022 Talent Show
The 2022 PSP Talent Show required several months of work from student leaders.
Students were hard at work for months leading up to the 2022 Talent Show that took place on Jan. 29. The Public Service Practicum (PSP) classes worked for several weeks to plan acts, hold auditions, and plan the show. Students prepared sound, visuals, props, rehearsed their acts and worked together to plan the show both on stage and behind the scenes. Most rehearsal days consisted of collaboration between performers and directors to better their acts.
"[Rehearsal consists of] a repetition of getting the stage ready, running through an act, discuss[ing] with the performers on what they can improve on, strike it, then going through it again. I also check in with different areas to see if they're doing alright," senior stage manager Kaede Kazuno said. Several PSP members are performing in the show themselves, like senior Jake Beshel who is both performing and directing. Each role has different responsibilities, but all are essential to the show. Students with dual roles have to balance the responsibilities of both.
"The directors can really sit down from an audience member's perspective to see what little things are missing. We try to make the process stress free for the performers. All we ask from performers is to bring talent and a positive attitude, while it's the directors' responsibility to make sure everything runs smoothly from a technical standpoint,"
Beshel said from a director perspective. However, the focus shifts to their own acts' entertainment value in the performer role.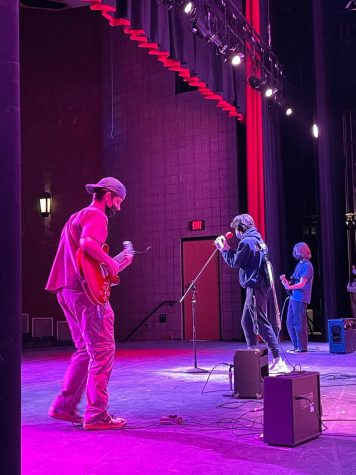 "As a performer, when you're on stage you have a vision going into your performance on what's going to be entertaining," Beshel said. The audience perspective is key in making a successful show, since the main goal is to entertain. Entertainment was at the forefront of planning the talent show this year; the main challenge for student stage managers, like Kazuno, was to make sure the show keeps audiences engaged.
"Some challenges are figuring out how to make the acts better, figuring out how to make the stage presence better and how to make it entertaining for the audience," Kazuno said. Along with bringing several Central events to fruition, PSP is a co-curricular for upperclassmen students looking to grow into their creative skills and make lasting friendships through projects like the Talent Show.
"Working on this talent show has probably been one of the best–if not the best–experiences of my highschool career. All of the time spent on this project built a strong connection between me and my classmates involved in the show. I would definitely recommend joining PSP, and I'm going to miss seeing everyone after this year," Beshel said.