Environmental Club plants seeds for a greener GCHS
GCHS Environmental Club works relatively quietly, but their impact on our community is significant.
Many community members fall victim to the idea that small actions won't help curb greater environmental issues. However, some students have taken initiative to educate our greater community on how we can take better care of it and the world at large. Grayslake Central's Environmental Club houses several projects to promote better environmental consciousness and provides a collaborative space for students who are passionate about reducing harmful waste and pollution in the GCHS community. Environmental Club works relatively quietly, but its impact is important as students work towards their mission of promoting environmental consciousness in the Grayslake community.
"GCHS' Environmental Club's mission is to make a change in the school, Grayslake, and Lake County as a whole," senior Jesus Ortiz explains. "We want to build leadership skills and other essential skills through the projects we do so that students can grow while also aiding the environment."
Students who are interested in the environment are able to help through involvement in important projects organized by the club. Both this year and last year presented opportunities for students to give back to the Grayslake community.
"Our largest activity so far was hosting a pumpkin recycling event. We held [it] after Halloween and got people to donate — and smash! — their pumpkins in order to keep them out of the garbage and make sure they are properly disposed of," senior Reed Thibaudeau explained. "Also, last year, we participated in a trash audit with the 5 Gyres organization. We picked up trash in random locations around the community and reported our findings to the organization so that we can better influence companies and governments to reduce waste and pollution," Thibaudeau said.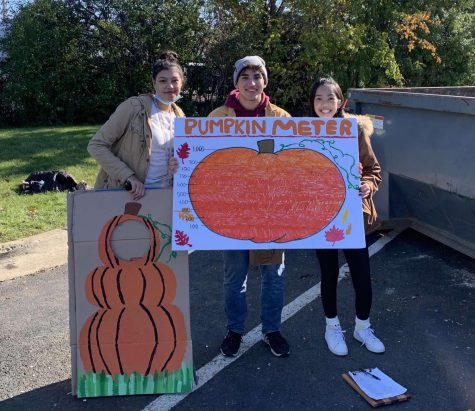 For the future, Environmental Club has several plans to further emphasize their message of recycling and eliminating waste.
"We would really like to focus on recycling here at GCHS. Our students are frustrated by the lack of recycling bins and our recycling efforts in general..so that is our goal for second semester! We would also like to do a beach clean up soon!" sponsor Kristen Salmons said. 
The impact of these projects have lasting effects for the club members and the community alike. The club hopes to extend their efforts into the greater Grayslake community to effect lasting change. 
"I believe that our club is helping our community do its part by creating opportunities for people to engage. I think one of the major barriers in working towards a more environmental lifestyle is the fact that we often feel hopeless against such a big problem. As a club we are introducing ways for us as a community… to take these small steps in helping the environment," senior Sarah Mata explained.
As for students, their impact on the environment can become harmful if they have no awareness of the issues their habits present. One of the main goals of Environmental Club is to curb negative habits towards the environment through education and awareness.
"Our main goal is to educate other students about their environmental impact and change the way we recycle here at GCHS. We would love to have more specific recycling for paper and plastics," Salmons said.
These students have a passion for making these small steps towards sustainability; other students with similar interests are welcome to join as well. 
"I have always cared about the environment and our impact, so when I saw there was a school-based club for people like me, I was quick to join. I have always been passionate about community service, and being able to serve my community and the environment is something really special that I am not able to do in every club," Thibadeau said.
Environmental Club has already done important work for the community, and they hope to continue influencing students to be more environmentally conscious.
"I want all students to know that we can't single-handedly change the world; this is a team effort. If we all individually make changes in our lives, we are each becoming one puzzle piece. Eventually if we all work on our own 'piece,' we can create global change because the 'pieces' will eventually form this huge puzzle. Everyone's piece may look different, but if you aren't sure where to start, Environmental Club might be just the right place!" Mata said.