Rams pick up 'W' on senior night
Grayslake Central routs Antioch
On Mar. 2, the Grayslake Central Rams (7-1) beat the Antioch Sequoits (4-4) 50-35.
Head coach Steve Ikenn honored his seniors, Mary Katherine (Mk) Drevline and Christine Cave, before the game with a speech.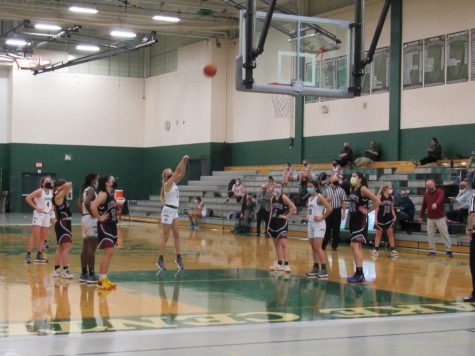 "With everything that has been going on this year, [senior night] was one of the things that was in the back of my mind the whole time, we have to find a way to honor our seniors," said Ikenn. Ikenn was very appreciative of his two seniors, "to be able to coach both of [them] has been outstanding… and [they] will both be missed," said Ikenn.
Senior guard Christine Cave got her first career varsity start on Tuesday. "It felt great to experience my first career varsity start. I was happy to play alongside my fellow senior [teammate] Mk Drevline. To be able to start the game with [Mk] was so fun, especially since it was our first and last senior night," said Cave.
Antioch's small forward, Ariana Nikolov, drew first blood in the game after hitting a three. The Sequoits' tremendous ball movement helped them take a 12-11 lead over the Rams in the first quarter. 
"Antioch was pretty aggressive. Their ability to rebound and move the ball helped them in their offense," said Cave.
The Rams and Sequoits went back and forth in scoring during the second quarter. Junior guard Monica Schleg banked in a three at the 4:15 mark, giving the Rams the upper hand 18-15. Antioch trailed Grayslake Central at the half, 25-20.
Antioch came within three points of tying the Rams at 25, after a made field goal from Nikolov. Drevline got things going for the Rams after swishing a three-pointer. Grayslake Central would continue to score, going on an 8-0 run, with help from freshman forward Tahj Bloom adding a quick two and eventually an and-one.
"We got our offense going when we pushed the ball up on fast breaks and slowed the game down to run our plays well", said Drevline. 
Over the course of the game, the Sequoits went four for nineteen from the free-throw line, a costly fifteen points that Antioch needed. Antioch never got within more than 13 points in the fourth quarter. 
"It was so nice to play a senior night game. I'm so grateful we even got to play any games, but to play senior night was special because it was something that I was looking forward to since I was a freshman," said Drevline.
Congratulations to seniors Christine Cave and Mk Drevline!