PSP creates new holiday traditions
Here is the holiday overview for PSP!
The GCHS Public Service Practicum Class started a couple of new traditions for this holiday season. 
One of the events that PSP drummed up was an Elf on the Shelf concept. 
PSP member Aiden Brum said, "We are putting three different elves in three different areas around Grayslake; we have one in Madrona, one in the College Trail neighborhood, and another in the Hainesville/West Trail neighborhood. It starts Friday, Dec. 11, and goes until Thursday, Dec. 24, [in honor of] the 12 Days of Christmas. Families can participate by going up to the elves and taking pictures with them to raise their holiday spirits. The first three people to take a selfie with the three elves and [direct message] to Instagram [@grayslake.elves] will get a prize from one of Grayslake's [local] businesses. Also, everyone will be entered in a raffle after the 12 days are up."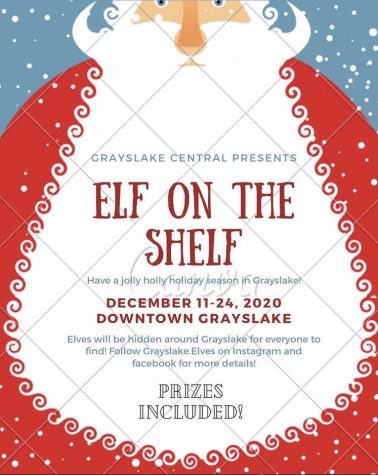 Essentially, the Elf on the Shelf event will last 12 days in three different areas of the community and the elves move everyday within their designated locations. Any students or residents of the Grayslake community are welcome to come and participate in the event; however, they must keep their eyes peeled and be very quick to find one of the elves. 
In addition to the Elf on the Shelf event, PSP wanted to stick to its roots of holiday traditions; Santa at P.A.D.S. The Santa at P.A.D.S event would take place at the Shepherd of the Lakes Church, incorporating a coat and clothes drive, cooking for those staying there, and even Santa would show, bearing gifts for the children.
The PSP students decided to both cook and gather materials for the organization.
"We are running a fundraiser bingo through Venmo. If you choose to donate [through Venmo], you can cross your name off on the bingo board and it has different price ranges from $1 to $5, and also, we put boxes at certain businesses in Grayslake which collect cash for P.A.D.S. Those who donated can enter their name and phone number into a raffle. Then once we finish collecting all the money on Dec. 21 to see how much we have, we're going to go buy essential items since we have already planned this with one of the P.A.D.S coordinators," said PSP member Caitlyn Mikes.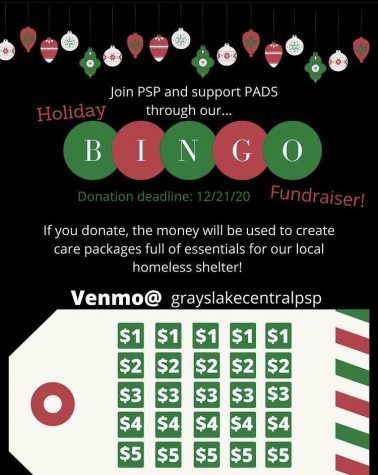 "My group is going to be cooking and baking a meal for [those] in Lake County that seek housing with P.A.D.S. And basically, we're going to do all the cooking anywhere from Friday, Dec. 18 through Sunday, Dec.2. Then we're going to drop off all the food at four o'clock on Sunday, Dec. 20, and it'll then be distributed to the hotels that the homeless population is staying at," said PSP member Madeline Peterson.
Lastly, a coat drive is being held for the Salvation Army. 
PSP member Zoel Martinez explains, "We have advertising signs and boxes to collect the coats at Emils, Ace Hardware, Something's Brewing, and Dalton's Bakery.  We gave stores flyers to hand out as people are walking out to show where they could donate to and where it's going to go. We are sending all the donations to the Salvation Army."
To reiterate, Culver's, The Vine, Sammie's, Premier Chiropractic, and many more locations are accepting cash donations or through Venmo, @grayslakecentralpsp, which will all go towards P.A.D.S until Dec. 21. The coat drive for the Salvation Army has collection boxes at Emils, Ace Hardware, Something's Brewing, and Dalton's Bakery until Dec. 22. It is never too late to donate!