Cabaret Night hits the right note
 On Tuesday, Nov. 20, fine arts students performances during Cabaret Night at GCHS struck a chord with audiences. Located in the choir room, audiences filed in at 6:30 p.m. and filled every seat in the round stage space. According to Michael Gutierrez, the teacher advisor for the event, attendance was higher than expected.
"I was really impressed right away with the amount of people that were coming to support the students. It was a big turnout," Gutierrez said. The audience, made up of students, parents, and grandparents, was treated to 22 acts performed by students in an intimate environment. The audience was greeted and guided through the show by 3 MC's; Kaylee Staral, Jake Gately, and Alli Hacker, who each provided a light-hearted pun after each performance. The high schoolers in the audience that came to support their friends cracked jokes and made performers feel more comfortable on stage.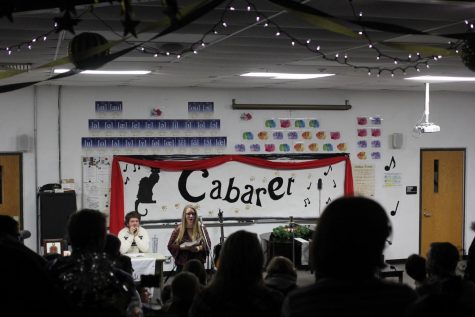 "Everyone kind of knows someone one way so if one person gets nervous, or one person makes a joke, we're all going to be there for someone, we're all going to  laugh at them, we're all going to make them feel good to perform. I think that's a really good atmosphere to have in the music community," MC and senior at GCHS, Alli Hacker, said.
Many students from the fine arts department were involved, including members of Tri-M, Central's Music Honor Society. According to Lily Bassett, a freshman and performer, the show provided a chance for students to demonstrate their creative talents in a casual setting, while letting their personality shine through.
"I think we saw a lot of personality and a lot of different people because they did have the freedom to choose what they wanted to sing, and how they wanted to present their form of art," Bassett said.
The students provided refreshments for the audience to snack on while the performance was occurring. Streamers, hanging stars, and lights adorned the walls and ceiling, also provided by students. According to Gutierrez, the show was the students' "own run performance."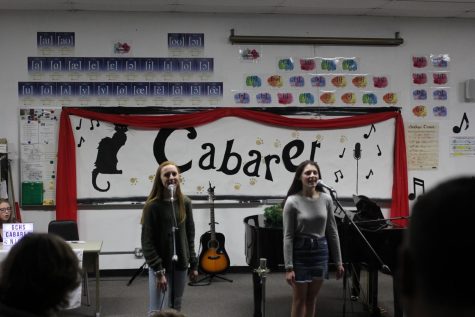 The show also allowed many art students to showcase other talents than what they present in class.
"I think it's a chance for every kid in the music department to do what they love most, and obviously that's performing, singing, playing an instrument, [etc.]," Hacker said.
Cabaret Night is a success for Central by giving students a chance to perform their art in front of a live audience without judgement. Cabaret Night will continue at Central and hopefully, at least according to the attendees, with more food and music to share.