Grayslake Goes The Distance For The Chicago Marathon
Grayslake runners compete in one of the most intensive races of their careers
What's the farthest you think you'd be able to run? For some, even a one mile jog can be a daunting task. Running a marathon can seem impossible, even to the most experienced runners. Several of Grayslakes own have taken up this challenge, and worked hard to make it to not just to the finish, but the starting line.  
On Oct. 9, 2022 over 40,000 runners from all over the world participated in the Chicago Marathon. The race saw many of the world's top distance runners participate, including Ruth Chepngetich from Kenya, who won the Chicago Marathon with the second fastest time for a woman ever, with a time of 2:14:18. While Chepngetich's performance was amazing, many people participated in the distance running challenge for personal achievement rather than setting records.   
Joan Rush, English teacher at GCHS, provides one example of what the Chicago Marathon can do for people. To prepare for the Chicago Marathon, Rush started a training program with the North Shore Distance Running Club (NSDRC) in the middle of June before the marathon and trained all summer and into the fall. Rush, a group leader for the NSDRC looks at running as a "privilege" because "not many people can do that." Rush loves running and training for the Chicago Marathon because "it just makes me feel…alive and powerful."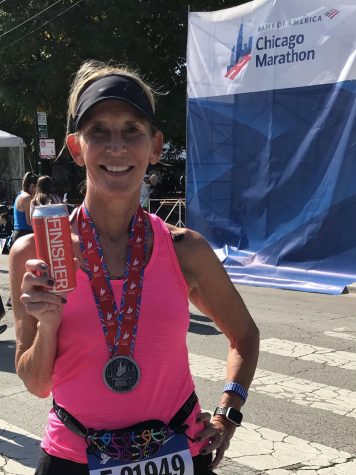 Christopher Palmer, another English teacher at GCHS, remembered how difficult it can be to get prepared to run a marathon. "
Palmer, who ran in the 2022 Chicago Marathon, explained how even signing up for the marathon has changed for him as he moved from a beginner to a more experienced distance runner. "… The reason I'm so excited about being able to sign up today was I'm excited about what I experienced last year, I think I used to sign up out of obligation as opposed to excitement to actually keep doing it and keep going after it and having fun with it." Palmer makes it clear that everyone has to start at some point to be a distance runner. A runner has to put in the right amount of work to be successful. 
Vincent Domier, a Grayslake community member and parent to two members of the GCHS Cross Country team, has a few recommendations for new runners. "Set a plan and you run your practice, and then hopefully that will turn out to be…a good plan for your race," said Domier. Domier continued by stating,  "if you trust the process, you have a good plan laid out. You know, that is going to help you run…a good marathon" and believes that new runners will see great results from training.  "[A] lot of times with a marathon you can't just show up and run the race," Domier concluded. 
Rush provided advice for any person looking to run, regardless of skill level. "Try not to think about 26 miles, think about two miles or one mile or just get yourself to the point where you feel like you can comfortably run a distance and then continue to add on to distance and don't worry about your speed."