Girls tennis dominates the court
Staff reporter Calen Benson sits down with Central's varsity tennis coach for an in-depth look into their season
The girls varsity tennis team had a successful season, as GCHS seniors Kharishma Bhalla, Aviva Krill and Grace Caldwell qualified for state competitions. With multiple wins throughout the season, varsity tennis coach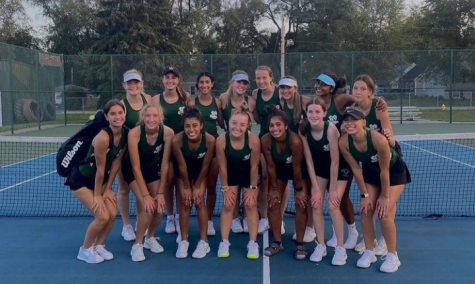 Chuck Lawson expressed his feelings on what he considered his favorite game this season.
Lawson says,"Grayslake North, because they're our biggest competition. It turns out we beat them pretty easily this year, but that was the game I was most worried about."
On September 9, 2021 the team participated in a match versus Grayslake North in which the team won with a score of 6 to 1.
Junior Jenna Groark, expressed her enjoyment of the Grayslake North versus Grayslake Central game. Groark says, "The match I played against North when I split sets and won in a tiebreak [was a lot of fun]."
The team did a lot to prepare for the season by practicing their skills and techniques. One area of focus was hitting the ball correctly. Lawson expressed how proud he was of the team's preparation for the season and how he still wishes to improve their technique.
Lawson stated, "I think we worked very, very hard and really prepared for the season."
With the COVID-19 Pandemic putting a pause on everyone's lives, the team has managed to be extra careful in their COVID-19 precautions in order to prevent anyone from getting sick to not  miss any games for a successful season. Lawson has reassured that the safety of the team during the pandemic is first priority.
Lawson stated, "It has been terrible. We're fortunate to still be playing. We have to wear our masks on the bus, when players get sick. It's not COVID but they still get sick."
Bhalla, the state qualifier for the single matches, was picked by Coach Lawson as the team's star player this season.
Lawson stated, "She is a really good player. She went to state her freshman year and sophomore year."
He expressed lots of gratitude and excitement about Bhalla being able to play this season as she had to sit out the 2020 season due to a shoulder injury.
Overall, the team had another successful year with winning lots of matches and being able to send off three state qualifiers. As Lawson put it "I am pretty much an old school basic type coach. I'm just after them all the time to improve their technique."  As we've seen the results speak for themselves.