Ruth Bader Ginsburg honored after death
RBG did a lot to advance women's rights throughout her life, leading to her being remembered fondly after her recent death.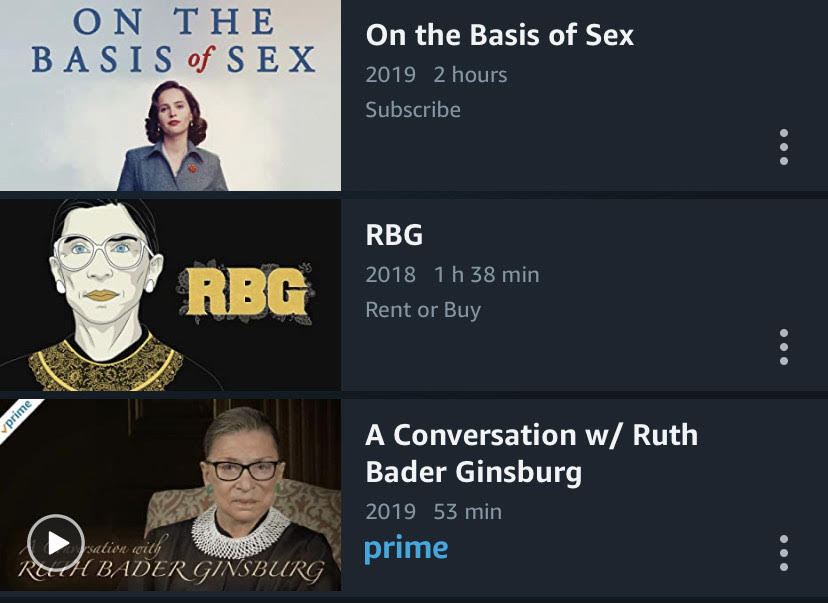 Lately, you have likely heard the name Ruth Bader Ginsburg a lot. While most people already know that Ginsburg was a Supreme Court justice who passed away recently, they may not know just how important she truly was.
Ginsburg was elected to the Supreme Court in 1993, being only the second woman to serve on the court, after Sandra Day O'Connor. With such a major role, it's foreseeable that RBG quickly became a major feminist icon, playing a huge role in the empowerment of women in America.
"She stood apart from other justices because she's a hero to many women for her tireless efforts supporting women's rights," said government teacher Glenn Roeck.
Ginsburg had to face sexism in her early law career and endured a lot of injustices women faced during this time.
"She didn't have the easiest time when she was a professor at Rutgers Law School," said US history teacher Francesca Bevente. "She actually learned that she was being paid less than her male colleagues."
After these experiences, Ginsburg began using her law career for the advancement of gender equality. This included co-authoring the first casebook on sex discrimination, writing the brief for the landmark Reed v. Reed case, which prevented estates from discriminating based on gender, and advocating for the Equal Credit Opportunity Act, which allowed women to have their own bank accounts without a male co-signer.
These accomplishments led her to the Supreme Court, where she would help make many decisions that promoted gender equality. Most famous was the United States v. Virginia, in which the court ruled that state-owned schools had to admit women.
"There is no reason to believe that the admission of women capable of all the activities required of (Virginia Military Institute) cadets would destroy the institute rather than enhance its capacity to serve the 'more perfect union,' " Ginsburg wrote according to USA Today.
Other notable cases Ginsburg helped decide were Struck v. Secretary of Defense, which protected the jobs of pregnant women, and Ledbetter v. Goodyear Tire & Rubber Co., which helped protect women's rights to equal pay. 
"I think that had we not had Ginsburg on the Supreme Court, we might not have progressed as much as we have in terms of women's rights," said Bevente.
Of course, being a member of the Supreme Court for nearly thirty years means that RBG was involved in many cases that weren't about womens' rights. This includes Obergefell v. Hodges, the case which made same-sex marriage legal across the country.
All these accomplishments led to Ginsburg becoming a major pop culture icon. Even in death, she made one final achievement, in being the first woman to ever lie in state (which is to have her body placed inside a state building for the public to pay respects). She truly was a remarkable woman.