Landau writes his way to state
Senior Noah Landau makes his way to State level Veterans of Foreign Wars (VFW) essay contest.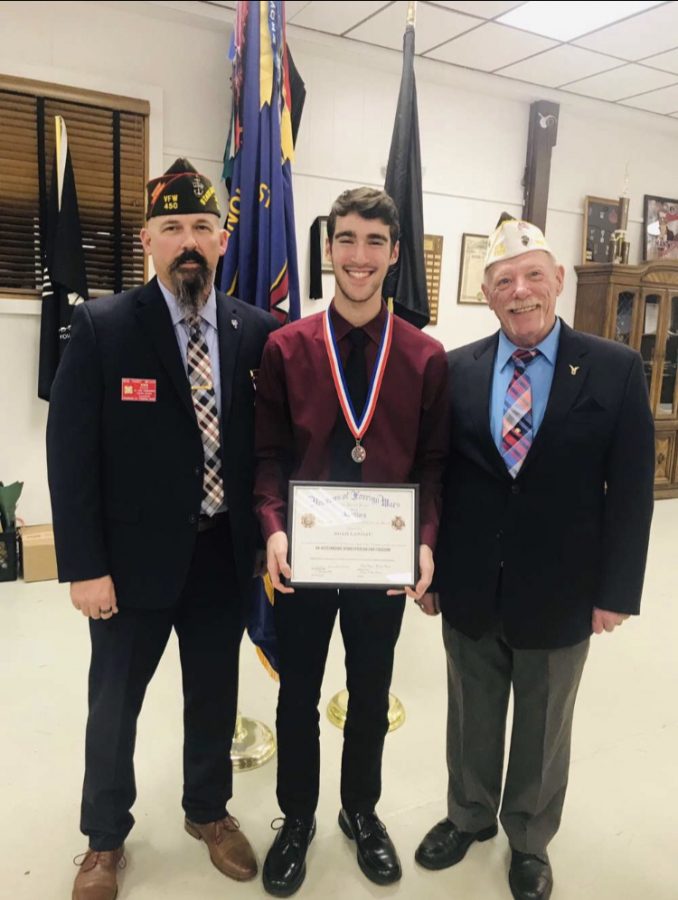 What makes America Great? This question is what many students had to answer in Michael Krecker's AP U.S. history class. 
Senior Noah Landau has the answer. Landau won first place in the yearly Veterans of Foreign Wars (VFW) essay contest sectionals. After winning sectionals, Noah will be moving to the state finals in Springfield, Illinois on Feb. 7 and 8. 
Every year writers are given a new prompt. Landau credits a unique perspective of the prompt to his success.
"The essay's prompt was 'What makes America great?' but it wasn't related to Trump or his campaign in any way." said Landau. "So, in the essay, I… flipped it on it's head. I did not say what makes America great; [rather, I explained] what doesn't. That kind of choice, with the enthusiasm I had for the topic, I think really sold it to the district." 
One of the perks of going on to the state level is a trip to Springfield. "I'll be going to a ceremony, and then the winner at Springfield will move on to D.C. and if you come first in place, you'll get a $30,000 scholarship, second [place] gets $16,000 and third [place] gets $10,000." said Landau.
Krecker believes Noah's love for history is what brought his essay to the next level. "I think Noah's a very strong writer, and his writing is easy to follow. He understands how to convey a narrative that you can follow quite easily. In his essay, he mixes personal experience with his knowledge. Noah's a very well-read student of history, and he's very interested in a number of things. His essay showed that wealth of knowledge and experience." said Krecker.