Environmental club spreads awareness
Climate change presentations spread awareness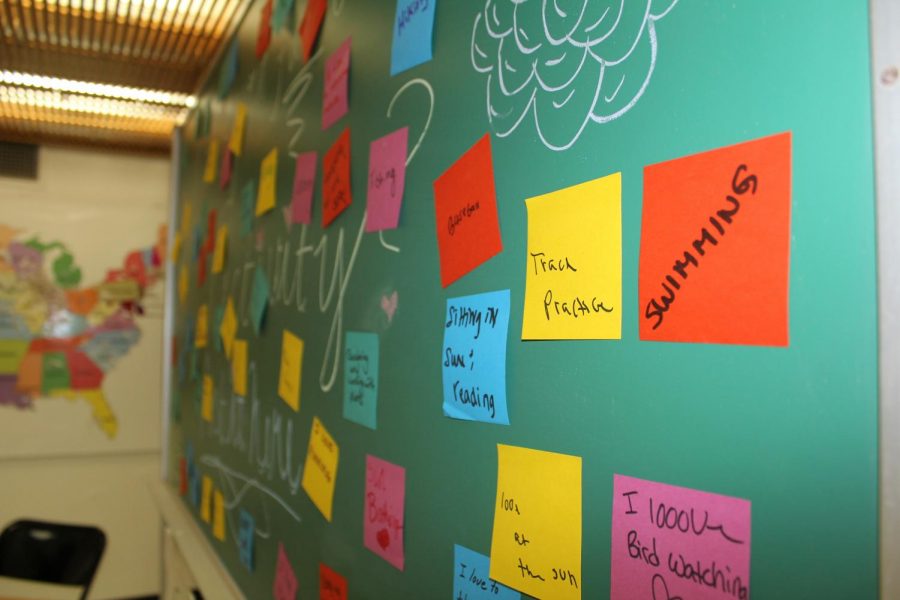 Environmental club has an initiative to make the student body aware of climate change from April 11 until April 26 through a series of presentations in front of the cafeteria during lunch periods. A chalkboard by the cafeteria is one part of this three week initiative. The purpose of week one (April 11th and 12th) was to focus on establishing a relationship between the student body and their environment by asking them to post their favorite outdoor activity.
"We're going to ask people as they walk into the lunchroom, like what's an activity outside that you enjoy? What something like skiing, snowboarding,…we're going to put it on sticky notes…. And then the next week, we're going to,… show how that would change because of climate change. Because I think it's more powerful when it's like something that they enjoy," says junior environmental club member Grace Lanham.
Week two (April 17 and 18) is focused on educating students on how climate change can be curbed, introducing the notion of political action through trivia questions concerning the Green New Deal.
Environmental Club is focusing on the question: "What can an individual do? They need to reduce their carbon footprint," said environmental club sponsor Mike McMahon.
For those wondering what the Green New Deal is, it was introduced by Representative Alexandria Ocasio-Cortez of New York and Senator Edward J. Markey of Massachusetts and calls on the federal government to slowly get the United States away from fossil fuels across the economy. 
"It also aims to guarantee new high-paying jobs in clean energy industries," according to the New York Times. "[Climate change is] happening everywhere… people are suddenly becoming … aware to this idea that…  'oh my gosh! We need to do something'," says Lanham. 
Week three (April 22 through 26) is focused on connecting and communicating to local senators, such as Tammy Duckworth and Dick Durbin and state representatives like Brad Schneider, 10th congressional district. 
Students who are interested may walk up to the table in front of the cafeteria and write a short letter, mailed by environmental club, advocating environmental legislation.