Baseball swings for the fences
Baseball on hot winning streak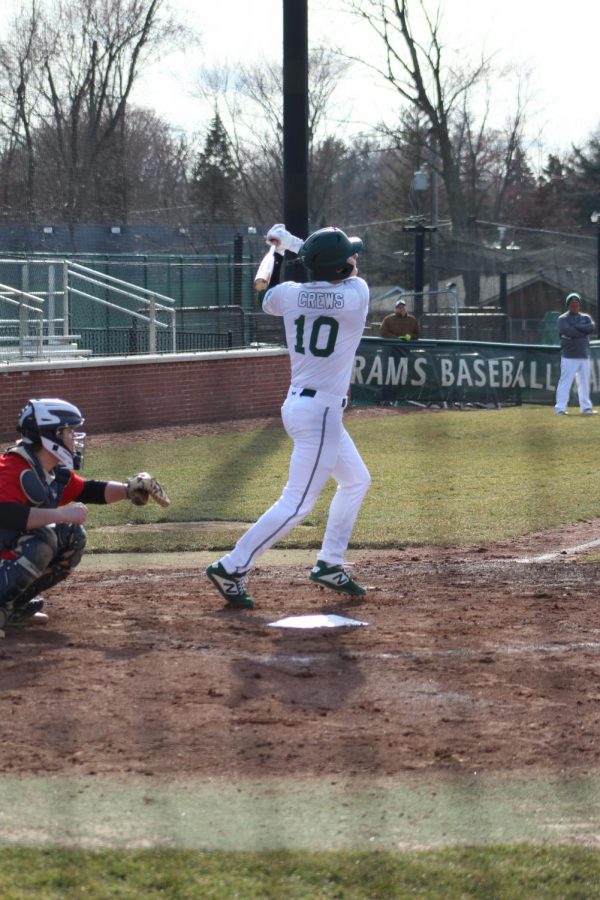 The Grayslake Central baseball team hit their season off with an early vacation to the ESPN Wide World of Sports Complex at the Walt Disney World Resort in Orlando, Florida. The Rams won three of their four games, capping their spring break off with an 11-2 win against Orange High School from Ohio.
After the 28 players proved themselves in tryouts in the spring, the Florida trip gave the team an early insight as to how their season might look.
"Playing in the warm weather was really nice. It was the first time that our team could really get together and start playing. So it was it was a good start to have on the year." said senior outfielder Andrew Gatchell.
"It was our first official games of the year. We learned from it what we need to improve and overall it's probably one of the best team bonding experiences that we can have as a whole" said senior infielder Brandon Allen.
The Rams opened April with a 10-4 win over Marian Catholic on the first, before winning a series two games to one against cross town rivals Grayslake North to close out the week. They then beat Niles North 11-1 on Saturday April 6. The Rams started a series on April 9 and swept the eagles in three games.
"We have depth in our team. We still do need some improvements. But I feel like as of right now we have a good start." said Allen about how the Rams season has started.
The Rams have currently outscored their opponents 96-32. For reference, they have outscored their opponents in just their last four games combined (38). The Rams have failed to record more than five runs in a game just once so far this year (2-1 loss to Grayslake North), and each of their two losses are within just two runs.
"Our hitting has definitely stepped up. Offensively, there's still things we need to work on, but as a team I'd say our hitting and the ability to drive runs in have definitely been really good." said Gatchell.
"We're working a lot with hitting the ball the opposite way. When the ball travels, you know, it's a good thing when it happens. But it's something we definitely still need to work on. Defensively, we've been doing pretty well. Can't complain. We can always get better." said senior infielder Dylan Villareal.
Despite playing very well in all their games this year, there are still improvements the Rams think they can make.
"So far this year, we've been doing really well, offensively. But as our coaches have been preaching, like, we need to play really good defense. We need to get closer and especially we need to play our A-game a lot, especially in those one or two run games and against those really hard teams we eventually see in our sectional." said Allen.
One way the Rams have been trying to improve their team chemistry is through playing small games during practice, such as tic-tac-toe and dodgeball. Being in class with each other has helped to build team chemistry as well.
"Andrew [Gatchell], for example, is in some of my classes and you know, that really builds our relationship with each other and, you know, kind of spread to the rest of the team as well as you know, together in the dugout." said Villareal.
The Rams currently rank 78th in the state of 573 teams according to Max Preps, but feel that they can go as far as anyone.