Self-education is necessary to recognize Black History Month
Let's celebrate Black History Month! Here are all the activities you can participate in to honor the impacts of historical figures and events that changed society.
For the whole month of February, Black History Month will be celebrated. With that said, President Joseph Biden signed an executive order that tackles racial equity and support for underserved communities through the federal government. As the GCHS community, let's do our parts as well. The national government has stepped in to address this issue, as people of this country it is encouraged to educate yourselves in order to be more tolerant of diversity in our communities. 
Knowledge leads us to tolerance and harmony. Knowing the history of a group of people leads you to be more respectful. In this way, you can sympathize with their struggles and be aware of their cultures and traditions. 
Social studies department chairperson Jason Janczak recognizes that our US history curriculum has flaws since the story of people of color ends in the '60s. "As the social studies department, we want to take a hard look in our curriculum since in the past, we look at slavery, 13th, 14th, 15th amendments, Jim Crow laws, then Martin Luther King Jr. and everything is better. In reality, we didn't celebrate culture [and] we didn't celebrate heritage." 
In addition to the changing progressive curriculum, they are also running an activity that promotes self-education. Starting in the first week of February, the social studies department will be placing posters around the school with QR codes and will be posted through RAMPAGE social media accounts, which students can scan so they can learn more about historical events that shifted social and political climate. Students will also be able to learn about particular historical figures that made an impact on society.  In addition to having the posters around the campus and RAMPAGE social media accounts, they are also working to screen the movie "Selma", so remote learners are engaged in the celebration.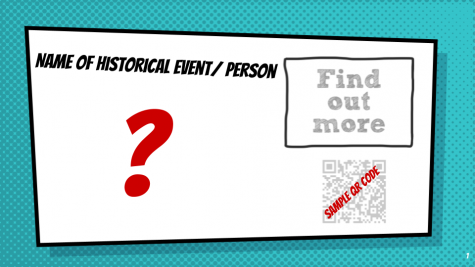 Looking ahead, "[Black history month celebration] starts to become more of a [long term] event instead of a one-day activity," said Janczak. "There's a stronger desire this year, and in the past years to make sure that these stories are told, and they are told longer than a month." 
The Black Student Union (BSU) will also be making google slides for people to learn more about historical figures that made an impact on the fight against racism and it will be linked in the morning announcements every couple of days throughout the month of February. They are also planning on hosting a game of 'Black History Month jeopardy' for the last week to February.

Not only can you participate in the activities hosted by BSU and the social studies department, but you can also go your own way and read articles or books that can educate you.
Here are book recommendations that are a mix of literature ranging from those that have been around for half a century to the contemporary ones. You can tackle them to learn about black history:
A Raisin in the Sun by Lorraine Hansberry.

Buy a book. 

Letter from Birmingham Jail by Martin Luther King Jr.

PDF.

I Have a Dream by Martin Luther King Jr.

PDF.

Poems by Langston Hughes 

Between the Worlds by Ta-Nehisi Coates.

Buy a book. 

This Book is Anti-Racist by Tiffany Jewell.

Buy a book. 

Just Mercy: A Story of Justice and Redemption by Bryan Stevenson.

Buy a book. 

Stamped: Racism, Antiracism and You by Jason Reynolds and Ibram X. Kendi.

Buy a book. 

All God's Children Need Traveling Shoes by Maya Angelou.

Buy a book. 

Black Enough: Stories of Being You and Black in America Edited by Ibi Zoboi.

Buy a book. 

The Autobiography of Malcolm X: as Told to Alex Haley.

Buy a book. 

How to Be An Antiracist by Ibram X. Kendi.

Buy a book. 

Getting Away with Murder: The true story of the Emmett Till Case by Chris Crowe.

Buy a book. 

Go Tell It on the Mountain by James Baldwin.

Buy a book. 

I am the Darker Brother: An anthology of Modern Poems of African Americans Edited by Arnold Adoff.

Buy a book. 

Juneteenth: A Novel by Ralph Ellison.

Buy a book. 

Malcolm X: a graphic biography by Andrew Helfer.

Buy a book. 

March (book 1-3) by John Lewis.

Buy a book. 

The New Jim Crow: Mass Incarceration in the Age of Colorblindness by Michelle Alexander.

Buy a book. 

A Wreath for Emmett Till by Marilyn Nelson.

Buy a book. 

Biased: Uncovering the Hidden Prejudice that Shapes What We See, Think, and Do by Jennifer L. Eberhardt, Ph.D.

Buy a book. 

Cross-X by Joe Miller.

Buy a book. 

Drinking Coffee Elsewhere by ZZ Packer.

Buy a book. 

The Central Park Five by Sarah Burns.

Buy a book. 
If you're a visual learner, you can watch these movies where you can see the history of systemic racism.  
The Defiant Ones (1958) – Amazon Prime 

13th (2016) – Netflix 

12 Years of a Slave (2013) – Hulu 

A Raisin in the Sun (1961) –

YouTube 

Hidden Figures (2016) – Disney+

Glory (1989) – Hulu 

Selma (2015) – Hulu 

Remember the Titans (2000) – Disney+

The Loving Story (2011) – Documentary on HBO Max

Malcolm X (1992) – HBO Max
Use these materials to engage oneself and to start the conversation to promote racial harmony in our community.
Janczak emphasizes that the fight against racial barriers isn't over; "[it] isn't done, we celebrate these people who have done historic things and in order to honor their work, we need to continue their work."