Best Buddies meet remotely
The members of the Best Buddies club meets online for their holiday party.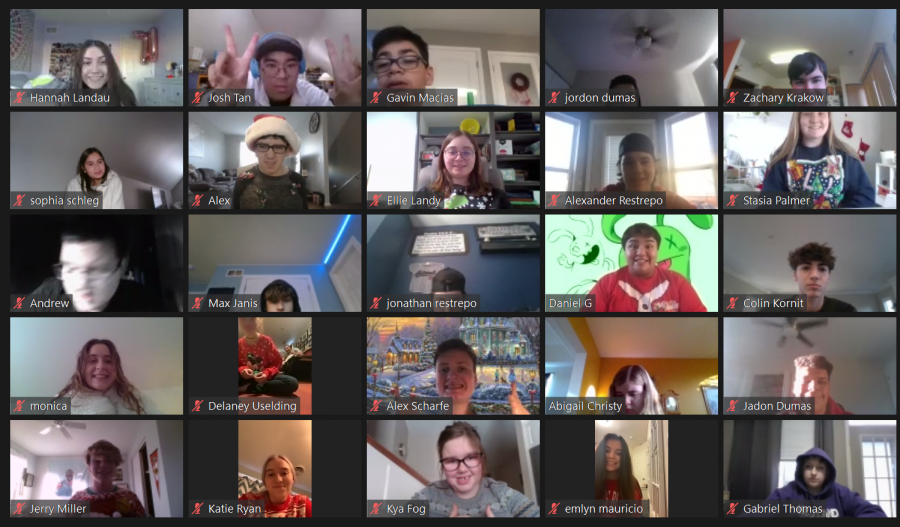 Best Buddies is a club  "dedicated to enhancing the lives of people with intellectual disabilities by providing opportunities for mutually enriching friendships and an integrated employment," said Shari Snavely, who sponsors the club with Nella Sanders. The club meets for a chapter meeting every month at 3:15 after school.
Best Buddies works to match students with intellectual disabilities with high school students from general education to create friendships. What makes Best Buddies different to other clubs is its purpose. "All clubs are great, and everyone's clubs have their purpose, but I think Best Buddies is a little bit different because it's just trying to spread a positive message," said Snavely. 
Many enjoy the club, such as Freshman, Gwen Thommes. "I like the aspect of friendships and making bonds the most, it's just a really nice thing to see people get together and make friendships," Thommes said when asked her favorite part about Best Buddies. 
In the past, the club has carved pumpkins, played basketball, and other many social events. This year, however, the club has had to make some changes and sacrifices due to COVID-19. 
When asked about the potential move to hybrid learning, Snavely states, "We would like to continue [club meetings] via Zoom… we have to be cautious with pre-existing health conditions with some of the students… so we've made the decision that during hybrid, we would continue via Zoom." This means the club has and will continue to do all their activities via Zoom, including making crafts, playing Kahoot, Padlets, and online parties. 
Best Buddies plans to follow COVID-19 regulations and stay safe during this pandemic. However, this does not mean being remote is a burden to the club and its members. "I think most of the buddies are not a big fan of [being remote]…they miss the big social aspect of it and the interacting with each other because the first few minutes [of the Zoom meeting], you'll see…all the buddies are shouting 'hi' to their friends and are super excited to see them on the Zoom screen," Snavely said.