Hockey impacts Arnopolin's life
Playing hockey in our community isn't as known. Here's a story that gives you a glimpse of what playing hockey for the Lakers Hockey Club could be like.
It all started with regular programming of Blackhawks' games in fifth grade when varsity hockey player Brett Arnopolin was inspired to play hockey. For seven years now, Arnopolin still strives to stand out in the rink.
"I would spend a lot of time on ice and off ice to practice and get better. I sacrificed time, I could be doing other things instead of working out," said Arnopolin. 
Arnopolin has been playing in the Lakers Hockey Club for four years. The club consists of Antioch Community High School, Lakes High School, Grayslake North High School, Grayslake Central High School, and Grant Community High School. They participate in the North Central Division of Illinois High School Hockey League. 
"I enjoy when we're together a lot because we have a lot of events, practice, and fundraisers. I really enjoy it a lot. It helped me to develop some lifelong friendships," said Arnopolin.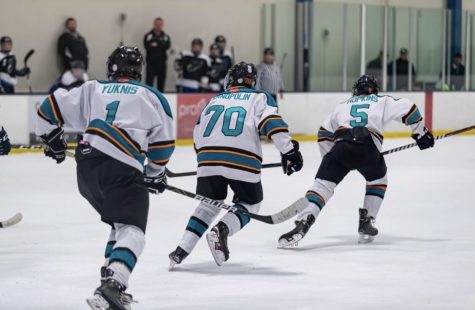 One of his memorable moments in the sport was his first varsity game, where Arnopolin was ecstatic when he scored his first goal. "The crowd was amped up, which made it more exciting. My teammates were pretty excited for me because they knew it was my first game and first goal," said Arnopolin. 
In addition to this, Arnopolin reminisces when he scored a winning goal that sent them to the third round of the state playoffs.
"Just hearing the crowd and the teammates made me excited. My team on ice surrounded me and cheered me on," said Arnopolin. 
Although playing hockey isn't always easy, in his last year Arnopolin revealed that he's playing through an injury. Luckily, he didn't have to sit out the rest of the season. 
Despite the setback, Arnopolin still persisted to play his best. "My family motivates me. I know that they always want to see me play my best and do my best. Knowing that helps me be the best that I can be," said Arnopolin. 
In his senior year, Arnopolin strives to "have the most fun and to set a career-high endpoint." Unfortunately, for his last year playing hockey the stats that he will be making won't be reported.
Arnopolin advises that aspiring hockey players should savor every moment they have in the rink since those times go by fast. 
"I've learned to value my time on ice, especially in high school since it goes by quickly. My last year, I wish I could've done more and have more time on the ice and more time with the team," said Arnopolin.
Not a lot of students are aware that playing hockey in high school is an option. If you're interested in playing hockey in high school email the Lakers Registrar and be a part of the Lakers Hockey Club.