Student Council launches spirit week alternative
Read more about the first ever, Ramily Week!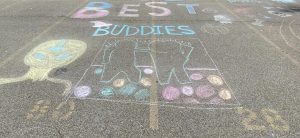 With the COVID-19 pandemic, many school events were put on hold or cancelled. This includes Central's famous spirit week and homecoming dance. However, despite these restrictions, the student council is putting together events to bring the student body together even during these difficult times.
Last month, the student council hosted a drive-in-movie night for students, which according to Monica Schleg, the student council junior representative, went well.
"[The movie night] went pretty well, we didn't get the numbers that we wanted, but the event itself was exactly what we intended. We wanted to get kids back on campus," said Schleg. The success of this event opened up a lot of potential opportunities for future events.
During the week of Oct. 17-24, , the student council did something new this year, Ramily Week, as an alternative for the cancelled spirit week. It was a week-long series of events, with social distancing, and was built with eLearning in mind. Every day was a different event.
Starting on Saturday Oct. 17, Chalk the Lot was held in the Grayslake Central parking lot from 8am-4pm. Clubs at Central meet there to decorate a section of the parking lot with chalk. As an alternative for students not doing Chalk the Lot, you could either decorate your door or your driveway in whatever way you wanted. Students were encouraged to share their decorating on social media by tagging @gchs_stucru on Instagram.
On Monday, there were nominations for the Ramily Court. Similar to the homecoming court, students from each class were nominated to be a part of the Ramily court. In addition to that, students were encouraged to make a spooky themed craft for Halloween.
On Tuesday, there was a "Boo your neighbor" activity, which consisted of going to another person's house, and leaving a piece of paper that says, "BOO!" on it, along with a bag of goodies.
On Wednesday, students were encouraged to carve pumpkins to share on social media. On Friday, there will be a streamed Ramily Week Assembly that will include a Ram Jam competition hosted by PSP. To finish off the week, PSP will be hosting a Hunt for the Cure on Saturday.
Despite the challenges placed by COVID-19, the student council managed to put together an excellent series of events that is sure to engage a large portion of the student body.
"We're just really excited to be able to offer our students a fall celebration week. So we're really excited that our school is supportive of this," said Lora Ciferri, the co-sponsor of student council.
With the hybrid learning program just over the horizon, there will hopefully be a slew of events that will continue to engage the student body until this entire pandemic is over.