Black Lives Matter: A Timeline
Black lives Matter (BLM) protest has been in and out of the media since 2012. Here's a virtual timeline that helps with understanding the movement.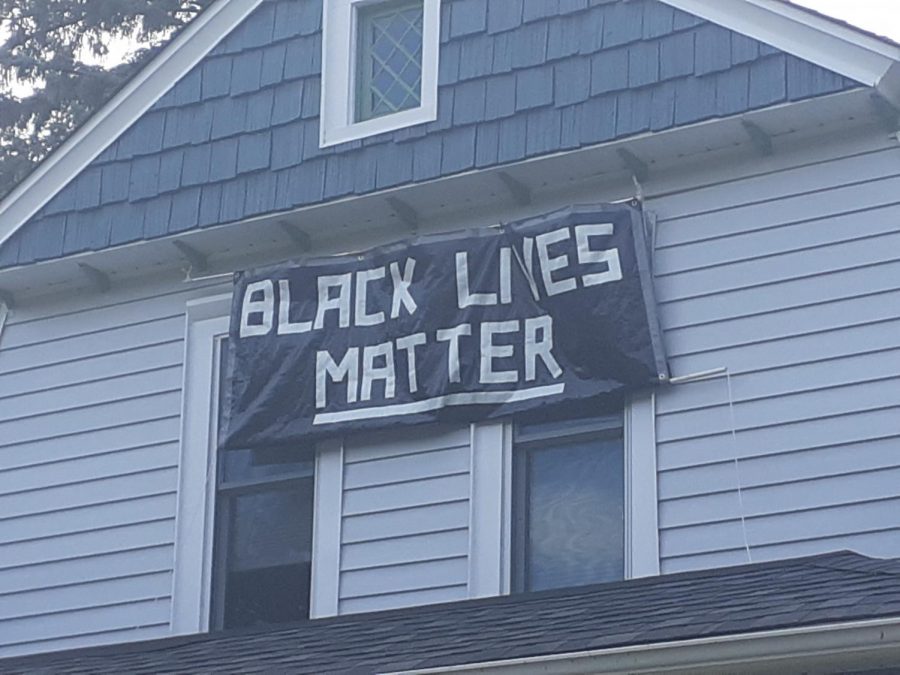 Daniel deBoer, Feature & Sports Editor
September 18, 2020
When George Floyd was murdered on May 25, 2020, it sparked a new wave of Black lives Matter (BLM) protests in all major cities across the United States, even stemming into the suburbs and small towns, as seen in Grayslake and other nearby towns. But these recent protests aren't the only protests that were involved in the movement. Since the murder of Trayvon Martin, the BLM movement has been in and out of the media since 2012. This visual timeline will cover major events starting in 2012 all the way through today. This timeline will only summarize the events, if you are interested in reading more, links will be included in the individual cases with more information.
Feb. 26, 2012 – Trayvon Martin 7, is fatally shot by neighborhood watch volunteer George Zimmerman. The Black Lives Matter (BLM) movement officially starts after Zimmerman is acquitted of murdering Martin.

Nov. 2, 2013 – Renesha McBride shot dead in Detroit after a car accident – Renisha McBride, 19, is fatally shot at the door of Theodore Wafer's home after McBride attempts to seek help after a car accident. Wafer is charged with second-degree murder and manslaughter, being sentenced to 17 years in prison

July 17, 2014 – Eric Garner, 43, is choked to death by an NYPD officer on the side of the road. Protests erupt in New York with the phrase "I can't breathe," which becomes a key statement in the BLM movement

Aug. 5, 2014 – John Crawford, 22, is shot dead by police after being seen with a toy gun he bought at the store.

Aug. 9, 2014 – Michael Brown, an unarmed teenager, is shot by officer Darren Wilson in Ferguson, Missouri.

Aug. 11 2014 – Ezell Ford, is killed by LAPD officers walking down the street, the autopsy reveals that Ford was shot in the back at close range.

Oct. 20, 2014 – Laquan McDonald, 17, is shot 16 times by officer Jason Van Dyke. Dashcam footage is released which sparks hundreds of protests to begin. Chicago Mayor Rahm Emanuel fires CPD superintendent Garry McCarthy over his handling of the shooting

Nov. 22, 2014 – Tamir Rice, 12, is seen pointing a gun at people in Cleveland, Ohio. Caller says the gun is probably fake, but this info is not related to the police. After police arrived on the scene 2 shots were fired hitting Tamir in the torso, he died the next day.

April 12, 2015 – Freddie Gray Jr.  is arrested for allegedly possessing an illegal switchblade. Requests for Grays inhaler are ignored, while being transported in the police vehicle he falls into a coma and dies a week later from spinal cord injuries 

July 5, 2016 – Alton Sterling, 37, is seen being shot five times in the chest after videos are released.

July 6, 2016 – Philando Castile is seen being shot by police through a Facebook live stream. He was shot while reaching for his wallet after being pulled over. Castile later dies in the hospital

July 18, 2016 – Charles Kinsey is shot in Miami while laying on the ground obeying police orders, begging for them to hold their fire. Kinsey's leg was injured in the incident.

Feb. 10, 2017 – 31-year-old Jocques Clemmons is fatally shot during a traffic stop in Nashville after pulling a gun on police officer Joshua Lippert.
Feb. 23, 2020 – Unarmed 25-year-old Ahmaud Arbery, is fatally shot while jogging in Georgia. Arbery was confronted by 3 white men in 2 vehicles who were all armed. All 3 men were charged on nine counts

March 13, 2020 – Louisville police knocked down the apartment door serving out a no-knock search warrant on 26-year-old Breonna Taylor. Police fired several shots during the encounter. She died on the scene.

May 25, 2020 – Christian Cooper experienced a confrontation with a white woman after asking her to put her dog on a leash in a strict "No-off-leash" zone. The woman calls police saying that an African American man was threatening her. The woman was charged with falsely reporting the incident in the third degree.

May 25, 2020 – George Floyd was killed after an officer kneeled on his neck for nine minutes despite George saying repeatedly, "I can't breathe." The officer was charged with second-degree murder and the other officers involved were charged with aiding in the murder. George Floyd's death sparked over 450 protests across the U.S.

Aug. 23, 2020 – Jacob Blake is shot in Kenosha following a 911 call from a woman who was claiming that Jacob Blake was her boyfriend and was not allowed on the premises, also stating that he stole her car keys and would not leave her alone.