Post-secondary planning benefits juniors
Planning life after mostly occurs in Junior year, advice and guidance from our trusted adults are essential in the process.
Junior year is when most post-high school plans are made. Students can choose whether they want to go straight to the workforce, or a 4-year college, a 2-year college, trade school where they can learn a certain skill and get the certification to be able to go in the workforce, or the military, which has many branches. 
School counselor Barry Goldman explains, "We really tried to identify the best fit for that individual student that helped them on that path so if it is a student that is looking at the military try to connect them with military recruiters in different branches. If they're thinking about going right into the world of work and helping them with a resume, or possibly interview skills and connecting them with jobs. And then if they are looking at more traditional two year, four year, trading schools, making sure applications are completed in time and submitting transcripts for that process so there is there's definitely a lot of opportunities and we don't want students to feel they have to head down one path just because that's what they're doing. It's really about what's best for them." 
However, the programs that were set up to help juniors with post-secondary planning were canceled due to the Covid-19 outbreak. These programs include college visits and one-on-one sessions with counselors. In response to these circumstances, student services administrative assistant Noel Mercure and Goldman use Schoology to encourage juniors to think about post-high school career paths through linking college reviews.
 They also suggest using quarantine time to start small on planning for the future. The school has online resources that could help the students match their aptitude to a career path. These programs can also help a student narrow down schools by adjusting the filters according to their preferences. Mercure encourages students to "think about what you love. What classes have you found inspiring… have you taken a psychology class and you were like… this is it, or are there any activities or volunteer activities or sports… anything that you really just have passion for. [If] you love babysitting little kids maybe you want to be a teacher. If you like to draw, maybe you can parlay that into an art career and art is all kinds of things. It's not just drawing, there are graphic arts and advertising, communications."
Naviance help: (https://drive.google.com/drive/folders/0ByW_R2xBI0GFOFFkVFJSSjFZSmc)
Post-secondary planning is a tedious process. Goldman suggests that "starting to have a dialogue with the family about what are realistic options after high school" is a good starting point in the process. In the upcoming school year, these conversations could be communicated to the counselors and can be incorporated in other logistical pieces of the planning.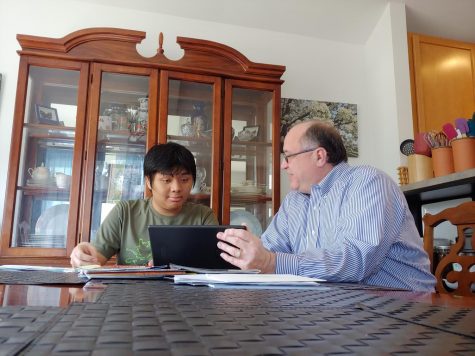 Planning early for post-secondary career paths is financially beneficial. "You can start applying for scholarships in your junior year… You can get your applications to your colleges in the summer between junior and senior year. The earlier you get them in, the higher you are at the top of the list. They're going to look at your application first." said Mercure. Colleges would receive thousands of applications around March of senior year which could get muddled.

Although the year didn't go as planned, the process for planning life after high school could be overwhelming, but remember that "there's a lot of support along the way in that process, just continue to utilize the resources that you have available to you that [are] critically essential. I think a year from now, people will be in a lot better position and understand everything more clearly" said Goldman.