Winter Gala supports Wildlife Warriors
Winter Gala gained approximately one-thousand one hundred dollars to be donated to the Wildlife Warriors.
In the anticipation of the Winter Gala, the student body enjoys the spirit week. Students and even the faculty members dress up to celebrate the week in February and bring attention to the upcoming dance. By the last day of spirit week, students gather in the field house wearing green and white to show school spirit.
From the school spirit chant to the three-point trick shot from senior Corey Whalen in the faculty versus student basketball game, this year's winter assembly was filled with enthusiasm and entertaining moments from the student body.
In the assembly, nominees from each class level were presented. These students are selected based on teachers' nominations for their outstanding character and service as a student.
During the halftime of the basketball game, senior Omari Fleming, one of the student council presidents, explains the cause of the Winter Gala. The proceeds will be given to a non-profit organization called Wildlife Warriors of the Australian zoo. The organization's mission is 'to protect wildlife and wild places'.
"This is an opportunity for us as a community, both North and Central, to have fun while giving back." said Omari Fleming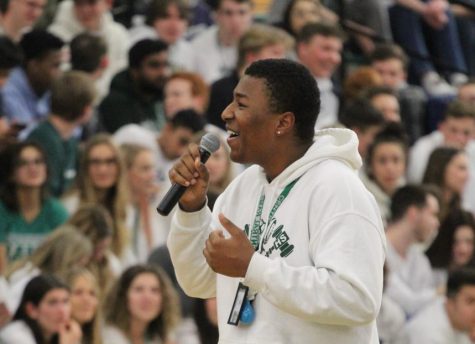 On Feb. 22, 2020, the Winter Gala took place in the field house. The dance was organized by Central's and North's student councils and faculty sponsors. The gala garnered approximately one-thousand one hundred dollars to be donated to the Wildlife Warriors. There were five hundred and twenty students that attended the gala. "We definitely achieved that goal. We also wanted students to have a fun and safe evening." said Lora Ciferri, one of the faculty sponsors of the Winter Gala.
Pingpong tables, karaoke, and bags were set up in the small gym for students to have options to spend the fun-filled night with their friends. In addition, the North's video game club had set up some video games in the conference room. Dinner was held in the big gym, where students get to enjoy Italian Cuisine such as grilled chicken, pasta and meatballs and mouth-watering desserts. "I didn't have much of an appetite, but I did find my way to the dessert table. The cookies and eclairs were so good!" said junior Mark Guckenberger. The Winter Gala provides an enjoyable, safe evening for students to dress up and have fun with their friends or significant others while also donating to a good cause.