Students pay veterans tribute
Students honor veterans at assembly and breakfast.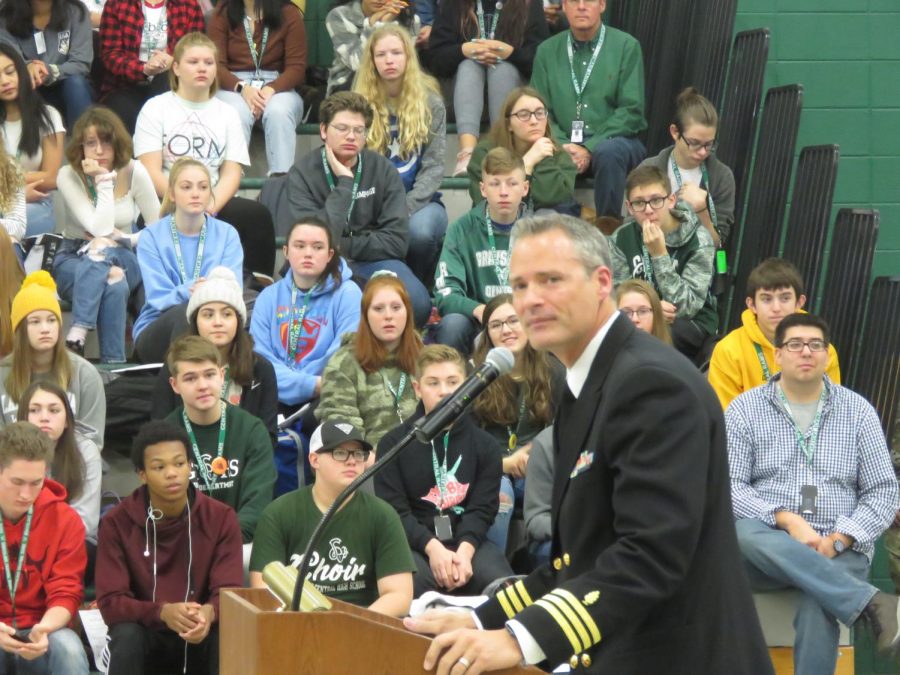 Veterans from around the community gather at Grayslake Central to attend the 9th annual veterans day assembly on Nov. 11. The band and choir perform the national anthem and patriotic medley. Their performance is followed by a speech from the keynote speaker, Dr. Anthony R. Peterson, commander in the United States Navy Reserve.
During Peterson's speech, he focuses on the core values of honor, courage, and commitment. He also stresses the importance of connecting with veterans and learning from their experiences.
Peterson said, "From our day to day activities to the hardest times we find ourselves in, reflecting back on these core values will provide guidance to you that will result in you never failing. And if you do fail, which happens, you can turn around, learn from that, and do better."
He encourages students in the school to always live by these values and to lead positive and meaningful lives.
"I know that there are kids in this school right now who are exhibiting these core values and… that leads me to feel very comfortable with the future state of this nation," states Peterson.
He ends his speech by thanking the veterans for their service and reminds students to "dig deep" and make the country a better place.
Peterson also mentions that "there are other schools that do not offer this opportunity for our veterans, and… what Grayslake Central does and the commitment that they put into this event is really notable. And I think that I can say, not only for myself but on behalf of the other veterans, thanks for that."
There are many students and teachers who find the veterans day events to be extremely rewarding.
Junior, and daughter of the keynote speaker, Madeline Peterson states, "When everyone leads out the veterans with a standing ovation, there's just such a strong sense of respect and honor and it gives everyone an amazing feeling." She wishes "that people will take the time to learn about the ones fighting every day for our country and freedom. Our everyday lives are possible because of these brave people."
Veteran and social studies teacher, Glen Roeck, encourages people to donate to Veteran's Closet, a nonprofit charity in North Chicago where people can donate clothes and food to veterans in need.
Roeck also wants students to "appreciate the sacrifices made by our service men and women. And to understand that once their service time has ended, they still need support."
A veteran's appreciation breakfast followed the assembly, which was organized by PSP and Key Club members. At
the breakfast, some student speakers spoke on the impact that veterans have had on their lives. There was also an opportunity for students to communicate with veterans. Madeline Peterson says, "When people get to hear their stories, it is eye opening and inspiring. Veterans Day gives so many opportunities to the veterans who want to tell their experiences and to students who are interested in their lives."
Throughout the day, a wide variety of speakers present in the theater about their experiences in the armed forces.
Senior Fatima Huaracha mentions that Navy veteran Jose Nicola particularly stood out to her out of the other presentations. She says, "It's powerful to see somebody fight for a country that adopted them, when many natural born citizens aren't willing to serve."