Environmental class constructs butterfly garden
Environmental science students have been working very closely with the environment to create change and help the butterflies live the best lives that they can.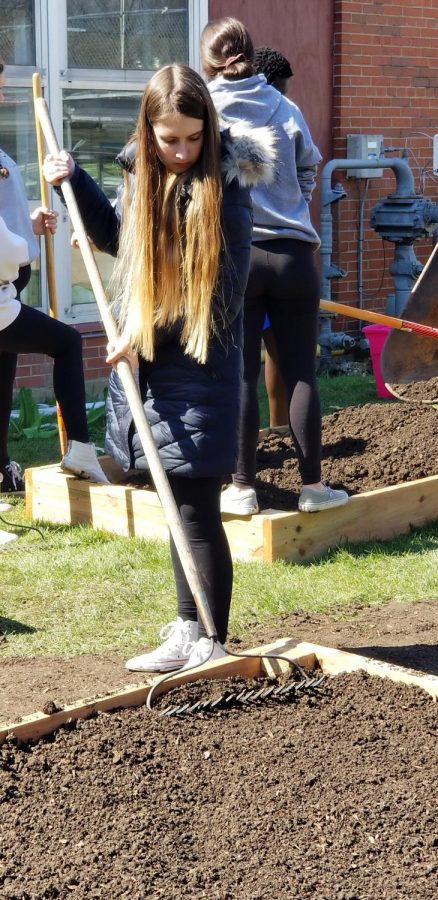 In November 2018, science teacher Bryan Tylkowski planned to construct a butterfly garden at GCHS. The Northern Illinois Science Educators (NISE) conference inspired him to begin the process of planning a butterfly garden project for environmental science students to complete. It is estimated that the butterfly garden will be ready for the butterflies to come by the beginning of the 2019-2020 school year.
The approval from the school was granted to go ahead with the project in November 2018, and the planning of the garden took place in January 2019.
Tylkowski had his environmental science students come up with proposals to brainstorm the development of the garden. "These groups presented their proposals to the principals, teachers, and community members… the design by Emily Usyak, Japhia Powell, Bridget Marshall, and Evelyn Garcia was… chosen," said Tylkowski.
According to senior Emily Usyak, "We chose the Lantana, Coneflower, Aster, and Butterfly Flower… The design we chose was to incorporate a scene where students and staff can relax and be comfortable."
In addition to making the garden pleasing for the stakeholders of the community, Tylkowski explains the main purpose of the garden. "Monarch Butterflies… might be classified as an endangered species next year… the problem is that people do not have plants in their backyards for the butterflies to feed on and to lay their eggs on," said Tylkowski. "Butterflies fly around from place to place stopping to eat and lay their eggs… Humans have changed the landscape and have removed a lot of plants that these butterflies need… adding in these gardens, we give these populations of butterflies a fighting chance".
Following the completion of the garden, "biology and environmental science classes can go out and monitor egg, caterpillar, and butterfly populations," said Tylkowski. "There is no easy or clear way that people can help. We may not be able to reverse climate change here at GCHS, but we can help butterfly populations."