Encore! makes history
Encore!'s spring show made it to state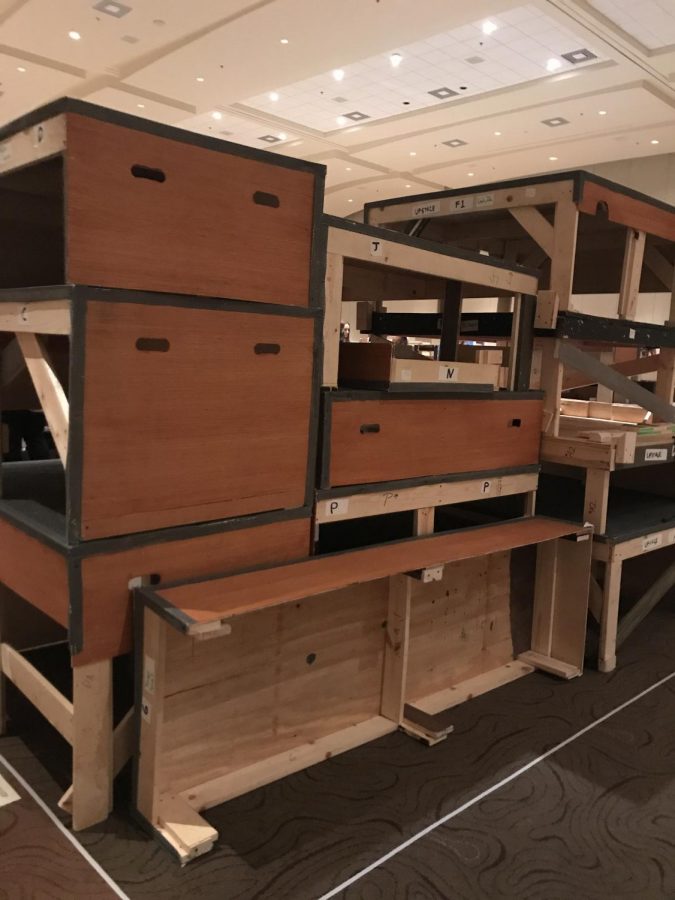 Encore!, the theatre program here at GCHS, on March 16 competed in the IHSA sectional drama competition at William Fremd High School in Palatine, IL. The shows that they competed with were a 40-minute contest play of "On Stars Not Falling" by Scott Shallenbarger and a group interpretation of "Every Day" by David Levithan. The contest play is a drama that focuses on a traumatic event that turns everyone's life around. The group interpretation is based off a book that is around 300 pages, which is shortened into a 30-minute play.
The contest play, "On Stars Not Falling," is about a group of friends, who dropped out of college after dealing with a suicide of a close friend that affected all of them. Months later, they all celebrate Liz's birthday when Jake unexpectedly interrupts this party, after leaving the rest of the friend group behind at the time of when their friend commited suicide. Jake brings up the story of what actually happened to their friend and that it wasn't what their friends parents told them
This play has a deeper meaning behind it showing, that if you're feeling lost or stuck, it is important to recognize the good in life and stay strong. This play may help bring up the courage for you to move forward with one's own happiness. The students who were in "On Stars Not Falling" included Sean Lambie as Jake, Emmah Pirie as Liz, Kaylee Staral as Kali, Nicko Netz as Ty, Andy Taylor as Wings, Alli Hacker as Molly, and Daniel Karl as Jimi.
The group interpretation, "Every Day," is about a person named A, but A isn't a physical persons, A is more of a soul, since A changes into different people everyday. A is never the same person twice and is not given a warning of who they might be the next day, but A does know that it is a person who is in the same town as the person A was the day before. Over time, A deals with changing bodies daily by creating specific guidelines to follow. These guidelines helped A to not get too attached to that person's personal life, avoid being different by not acting strangely, and not interfering with problems that may or have occurred. Everything changes after A meets sixteen year old, Rhiannon, when A takes on the body of Justin, Rhiannon's boyfriend. A learns to realize that A has a strong connection with Rhiannon that A works hard to try to be with Rhiannon after inhabiting different souls every 24 hours. Rhiannon then stars falling in love with A, and at the end, the couple has to make the hardest decision of their life: staying together or not.  The students who were in "Every Day" included Ian Cummisford as A, Lina Ishamuddin as Rhiannon, Jake Gately as Nathan, Kamrin Gustave as Justin, Jennica Sajor as Reverend Poole, an ensemble consisting of Amanda Berry, Lily Bassett, Derrick Gehring, Cari Nelson, Grace Park, Ben Robins, Madelaine Steffen, Lindzi Stur, and the swings, Lillian Durand and Rae Villarreal.
Maureen Ritter, the director of Encore!, choose these two shows to put on as this year's competition shows because she wanted the shows to be more meaningful and target high school students who could possibly relate to the story of the shows, leaving the audience thinking more about the story.
"I wanted to choose something that was a little bit more contemporary and relevant to like high school students so that's how I chose "On Stars Not Falling." The characters are 20-21 years old, so they're very close in age to the actors, and it dealt with really real topics that we don't talk about, like suicide, self harm, and mental health," said Ritter.
To advance to state, the contest play had to earn either first or second place and the group interpretation must earn first, second or third.
At sectionals this year, the contest play placed fourth, meaning, that unfortunately, they did not advance to state. The group interpretation placed second and earned themselves a trip down to state, which was the first time that the GCHS theatre program made it to state out of their four years competing.
On March 21, Encore! students left for state, which is in Peoria, Illinois at Bradley University. Before heading onto a bus for state, GCHS had a state send off drumline for Encore! at the beginning of third hour.
On March 22, there were a total of 18 shows divided into two groups. In the preliminaries, only the top three shows from each group advanced to the next day of competition. On that same day, at night Encore! found out that they placed 16th/18th, which is pretty good considering that it was their first time at state.
Additionally, at the state competition, there is an all state cast which consists of actors who stood out to the judges during the two days of performances. Junior Jennica Sajor was recognized during the awards ceremony as a member of the 2019 all state cast.
The assistant stage manager, Natalie Kim, commented about her excitement during this competition season. "Freshman year was the first time [Encore!] went to competitions, and it's really cool how it's [my] senior year, and we [got] to go to state!"