Grayslake WWII veteran shares his story
Doug Rockenbach share his story on WWII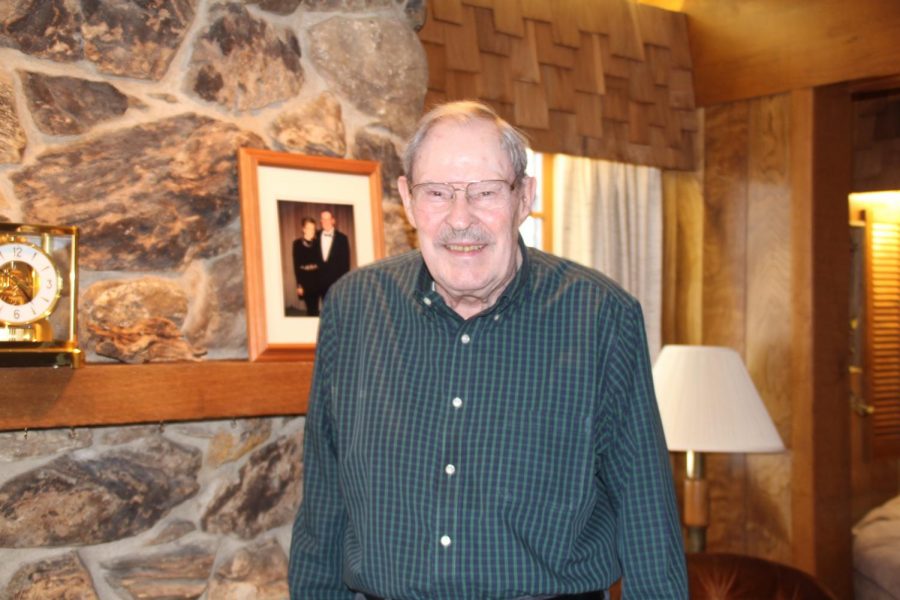 When I met Doug Rockenbach, I was at an American Legion pig roast event in the basement of the State of the Lakes bank in Grayslake. When I revealed to people that I was writing an article for the RAMPAGE, they referred me to Doug Rockenbach, 93, a veteran of World War II. Rockenbach is a Grayslake local, who owned Rockenbach Chevrolet. Immediately, when we sat down, it became clear there was a story to share.
Rockenbach became involved in World War II fresh out of high school, officially sworn in on June 12. 1944. He was in the service for two and half years. He served as a PFC with the 40th combat engineers. 
       On the day of the Normandy invasion (D-day), he was going through the straits of Gibraltar on the way to Oran, Algeria. From there, he went to Algiers and across to Italy, during which time the Germans were invading Southern France. 
       The Navy transport ship he was on went from Naples harbor, in Italy, to Southern France where the army traveled to Nice. 
        "[When] we went into southern France I was still, at that time, being trained in the infantry. [But the army] needed combat engineers so another fella and I [became one], it was two days after the invasion [of Southern France]." said Rockenbach.
       "I can still picture when we went to pitch our tent up on that hill… and I was sitting [with] another fella [called] [PFC Louis Green, 22]. So they want one man for detail [a small group of troops given a special duty]. So, I argued with him [but] he got to detail. So I'm sitting here, and I'm a 19-year-old kid in the southern France. I don't know anybody sitting on the hill [the commander] comes up and says 'pack up your buddies' barracks bag' he got blown up by a mine. It was a little scary." 
       At the time, says Rockenbach, he assumed Green had been taken to a hospital for treatment. However, years and years later, one evening, as he was sitting at his dining room table, he received a call. 
The man on the phone, it transpired, was writing a book featuring the explosion that day. It turns out that Green was killed instantly by the explosion during the detail. 
     What I consider an eerie twist of fate, that it was Green that went on the detail when it could have easily been Rockenbach, Rockenbach shrugged off as a sad coincidence.
From Nice, France the army went on the Alsace on the Rhine where he was at the time of the Battle of the Bulge. Rockenbach learn quickly that, to survive, he would have to adapt and learn things he never imagined he'd have to know.
"When we went into Nice, the first thing we had to do…the Germans had mines in the airfield. The first job we had was picking up all the mines…I didn't know a mine detector from a vacuum cleaner, but I learned very very fast, and then they had the things they call 'shoe mines' so a little wooden box with a hinge and a quarter pound of TNT and a firing pin… if you stepped on it, it blew your foot off."
As a soldier, Rockenbach would also experience harsh winters and sleep on the ground in barracks, tents, warehouses, or buildings with only blanket to cover him. "You learn to survive is what it was. You put everything out of your mind."
Rockenbach was in Munich, Germany when the war ended. It was the summer of 45', when Rockenbach was 20 years old, when he left the service. 
When I asked how he got through it all, he replied that he had heard an adage from another veteran that explains it, "We were scared… to death, but we weren't afraid to do our jobs'… you got… in trance: dig, build bridge, while tanks [fired],… and you were scared to death, but you did your job."
Serving in World War II has given Rockenbach a perspective on things like what it means to have a bad day and what it is really like to be a soldier. 
After his service, Rockenbach witnessed things like the treatment of the Vietnam war veterans and even sentiments that exist in the country about the military today.
"The worst part about [Vietnam] was that people weren't behind you. They come home, and they'd get almost spit on, these guys. [But in World War II] the girls were sending you cookies and everything like that. [In World War II] you came home, you were a hero. But these other wars, people come home and…they [civilians] don't even know a wars going on. You know, do you know anybody who's fighting today?" says Rockenbach. 
This kind of experience, as Rockenbach mentions, stays with you forever. 
In the case of Vietnam, it allowed him to empathize with the fact that while, he says, Vietnam wasn't a great decision, good men were still risking their lives. 
It also gives him everyday perspective that most don't naturally possess.
"I'm 93 years old… Just like I said, I don't remember what I had for supper last night. But I know I was on that grassy hill, I know when I built that bridge, I can see it in my mind. You know, and I use that… I use it through my business. I had a bad day. I think hey, think about that. You're lucky you're here."