Girls Basketball wins 3rd NLCC title
Central wins their 4th straight conference championship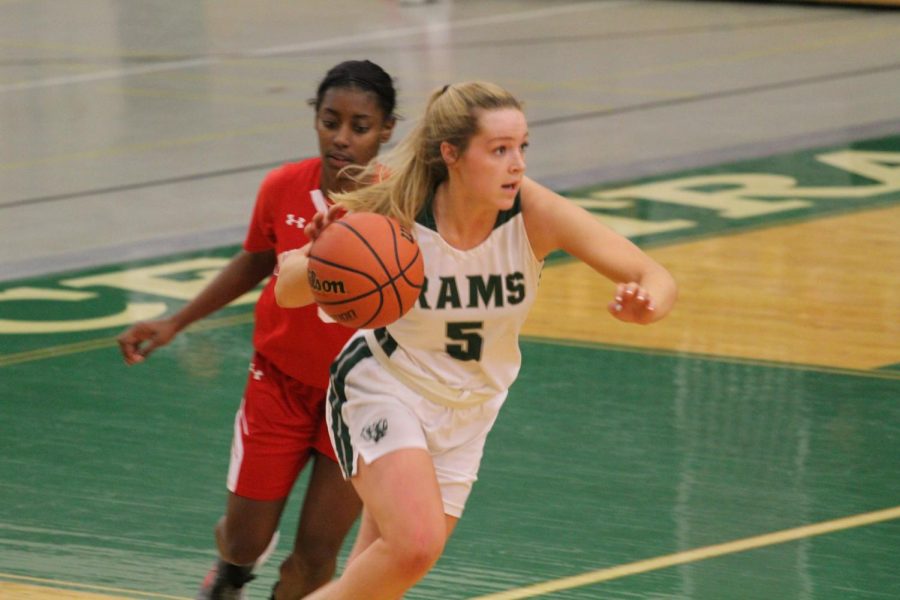 The girls started their winter break with the Warren Blue Devil Classic tournament. The Rams brought
up junior forward Kaitlyn Ostick and freshman guard Monica Schleg and opened their first game with a 38- 31 win against Deerfield High School.
They followed up the next day with an exciting 50-49 overtime win against Carmel High School. The teams went into halftime tied at 40. With 23 seconds left in overtime and leading 48-47, Carmel fouled Kate Bullman, who drilled back to back free throws and re-secured the lead. Both teams put in another free throw. With 5 seconds left senior guard Maura Fitzgerald stole the ball away from a Carmel guard to win thegame. The Rams had two girls finish with double digitpoints. Junior forward Kate Bullman had 26 points and senior guard Rosie Drevline had 14.
The Rams 8 game win streak came to an end against Quincy High School with a 41-39 loss and then lost again toLake Forest 41-34. The Rams finished 3-2 in the tournament.The Rams are 5-6 when playing in a tournament game this season.
Central lost their third game in a row to Palatine 39-35. The three game losing streak was the longest of the season.
After beating Glenbrook North, 46-32, and Grant 61-35, the Rams beat cross town rivals Grayslake North for the second time this season. The Knights took a 14-5 second quarter lead, but weren't able to hold off the Rams comeback that resulted in a 36-27 Central win.
"I think we've been doing really good, and we've been developing a lot as a team and as a whole and kind of growing and understanding each other better." said senior Kristy Heerdegen about the teams progression through the season.
The Rams faced North Chicago for senior night. After a slow first quarter that ended with a 14-12 Rams lead, Central got the ball rolling and won the game 49-18. Their second largest margin of victory for the season. Abby Tonkery made her season debut and scored her first points in almost a yearon a mid-range jumper that sent the crowd into a standing ovation.
"I think it was the coolest thing to see Abby not only get to be on the court and impact the game but to also make a shot and put 2 points up on the board by her number. It was one of the coolest feelings as a teammate to see someone like her so determined to show what she's capable of… Seeing that smile on her face and the chants from the crowd after is a sight and sound I won't ever forget." said Maura Fitzgerald.
As per usual, senior night was filled with plenty of emotions. Whether from the fans, parents, or players,emotions in the field house were overwhelming.
"It was really fun. Really surreal. It was sad because I've watched so many senior nights and been a part of them and then having it be mine was really weird." Said senior Kristy Heerdegen.
Central traveled to Wauconda High School, where they beat the Bulldogs 55-51, thanks in part to Fitzgerald, who knocked down late free throws.
"During the last few games, we have felt that we need to come out strong against our opponents and keep playing together on the same page. Going into the Wauconda game, we felt ready to play. We had worked on things in practice to be prepared for this game," said junior forward Amanda Kocialkowski.
Central traveled to Antioch where they beat the Sequoits 42-30. With the win the Rams clinched a share of the NLCC championship.
Two days later the Rams went out to Lakes High School where they won another exciting game, 43-42 to win the NLCC championship outright.
The win gave the Rams their fourth straight conference championship, and third straight 20 win season.
The Rams played another tough game against Grant High School. Rosie Drevline helped the Rams out to a 9-0 leadand a 17-7 lead at the end of the first quarter. By half time theRams led 25-17. Central was outscored 18-8 in the third, but once more Maura Fitzgerald secured a 48-43 victory on free throws.