New traditions for 2019 Gala
Centrals's student council collaborates with North for 2019 Gala
District 127 schools, Grayslake North and Grayslake Central, are collaborating this year to conduct the 3rd annual Gala dance on Feb. 23 at North from 7 to 10 p.m. The Gala provides students with a meal catered by Olive Garden, with the proceeds going towards the American Cancer Society, chosen by the North and Central student bodies.
Student council members, such as senior class president Aandal Sridas, work on committees to plan the finer details such as the assembly and advertising for Central's part in the dance. Student council's biggest method to plan is getting ideas from student council members such as activities during the assembly and the something extra, which is decided to be trivia at the dance, that Central is in charge of.
"I just initiate conversation, ask questions for like what we're looking for… and hopefully get ideas from other students. So it's not just us doing the heavy lifting. It's a lot of participation from the student council at large," said Sridas.
Central student council advisors, Lauren Brownstone and Lora Ciferri, are directly collaborating with North for more broad activities that come along with the week of Gala and the dance itself. The responsibilities have been divvied up this year between Central and North; North has to plan the logistics of the dance itself since it is located at their school, and Central has to plan the smaller aspects of the dance and all the activities that lead up to the Gala at Central.
" [At] Central this year, then…we have an assembly that we have to plan, we are advertising, and we are doing something, what we are calling right now is something extra; something to do at the dance besides just dancing," Brownstone said.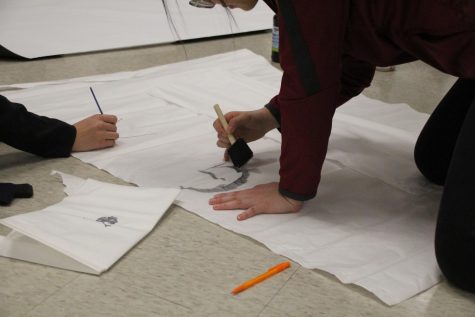 Although the collaboration has lifted many of the responsibilities Central has had in the past, there have been some logistical difficulties due to the physical distance and the difficulty of  two separate schools with different policies trying to plan one dance.
"Planning a combined dance has posed some challenges because we have two different student bodies trying to plan something or even student councils trying to plan stuff together," Brownstone stated. "They're on a different bell schedule."
Even though it is being held at a new location, many of the activities students know and like about Gala week are the same.
"We're still going to have our own spirit week. We'll have the assembly on Friday, just like we did the week of homecoming. [The Gala is] just going to be at a different location."  Brownstone said. "Plus, parking is better [at North]."
Some students, such as sophomore Ella Jensen, enjoy the Gala experience, thanks to all the planning and preparation by student council.
"[It had a] good energy, [and] good vibes," Jensen said. Therefore, she is planning on going this year because "it was fun last year, and it's fun to look forward to [Gala]."
Leave a Comment