New turf shocks Grayslake Central High School
Over the summer, Grayslake Central received modern turf because the could afford it, and the old turf was at the end of its life cycle.
When asked why we got the new turf, Dan Landry, the Grayslake Central Principal, explains "it was financial in like, you know,  it runs in and out of the life cycle".
When asked Mr.Landry what kind of turf was it was he said it was the turf that the NFL uses.
This is good because it means we are playing on one of the best types of turf if it is not already the best turf.
Jimmy Hinkley, a varsity football player. explains whether the turf is better than last years when he replies that the turf is "definitely better. There's a lot less, turf burn."
This is not just good for the football players; this is good for soccer, lacrosse, and marching band.
Additionally, this new turf is great for students during life fitness.
Jason Schaal, a coach for the Grayslake Central Rams and life fitness department chair, thinks the football team feels "yes, maybe a little"  more confident with the new field.
The new turf might even intrigue more students to join a sport and become more involved in after school activities, like football or other sports because of the fresh, new facility.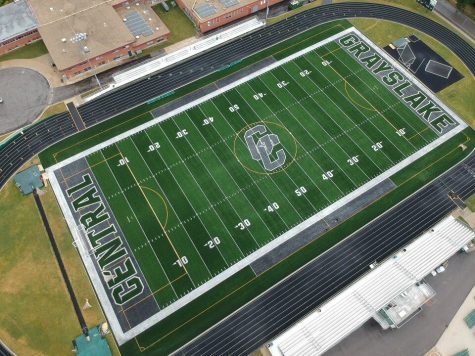 Photo by: Kevin Farrell