Girls and Boys Golf Swinging Into the Next Generation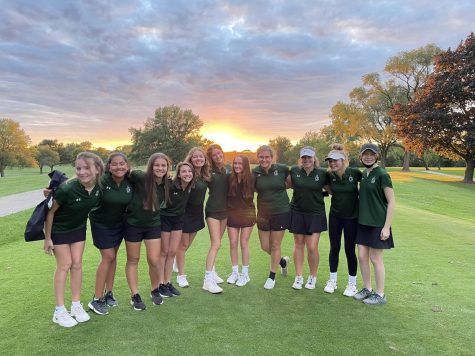 Sports aren't defined as a strenuous activity where people have to be physical. Rather, it can be a strategic and highly mental game. While golf does require some physical strength, it also requires mental solitude. Grayslake Central's varsity golf seasons have both come to a close, and future greatness is just a swing away, according to head coaches Danilo Sutic and Jim Mazzetta.
The girls' golf team was affected in many ways by the age of their players. "We had only one senior, Grace Mullins, kind of leading the charge for our varsity team, and everyone else was either a sophomore, and we have one additional Junior," Sutic mentioned. "Our youngsters and our underclassmen really got exposed to the competitive nature of the NLCC and really had a season of exposure that helped them see where they're going to be going during their junior and senior seasons."
Sutic also turned attention to the hard work that people don't see, and the commendable amount of effort that the girls put in "day in and day out." The amount of dedication and detail the team demonstrates is what proved themselves to be fierce competitors amongst rivals.
As a team, the girl's varsity golf team hit their lowest score as a team around 230 and bonded in different types of ways in addition to golf as a team.
"The Grayslake girl's golf program is on an upward trajectory. I think the readers of Rampage should know that not only the coaching staff of the girl's golf program, but the members of the girl's golf program, are very excited to see where we continue to grow and the path that we have set ourselves up on." Sutic concluded.
Sutic mentioned that one golfer, Jilllan Schulz, attended the NLCC conference tournament, which was "very exciting… …" "[I]t definitely a lot to get used to, especially since we don't have many years of experience on our side, but I feel like we did overall pretty well and kind of showed in our scores at the end of the season," Schulz expressed when talking about the young Rams.
Schulz reflected on fun times that the team had, such as doing their first annual scramble with staff members, where each athlete got to pick a staff member to go golfing with. She was also very proud that she carried the best scores out of the whole team in conferences.
Handling adversity is no easy task, yet the girls golf team persevered with a smile on their face, as remarked Schulz explained. "[T]here were definitely some points where we were getting discouraged because it wasn't a huge winning season, and I think that's what we had kind of been used to in previous years. But we just took a shift of mindset… thinking, if we're not going to be the most successful team here winning wise, we're going to be the team having the most fun, and that paid off. Everyone was much happier this golf season than last season.," Schulz concluded and continues to encourage new golfers to join in the oncoming seasons.
The boys' varsity season was also filled with many accomplishments of their own. According to head coach Jim Mazzetta, the team had a very "interesting" regular season, and played well during tournaments. "They helped each other along when someone was playing badly. Usually somebody else had stepped up but I could play any of my guys. I could play my one and six together and everyone will be fine," Mazzetta said when speaking about the team's confrontations with adversity.
Mazzetta has witnessed players grow and students rise as leaders due to the sport of golf. "Golf is like [a] game of integrity. They grow as a person by learning how to play by the rules and they learn as a golfer that hopefully they get better and in most of them do and improve their scores over the four years… They definitely grow as a person," Mazzetta said.
"[N]ext season will have a lot of younger kids stepping up and we have a lot of young sophomores and juniors of this year that are going to be stepping up," Mazzetta concluded.