Activities, athletics look forward to next year
Clubs and sports have seen a lot of changes this year. Although nothing is certain, GCHS looks forward to exciting new changes in the upcoming school year.
This school year has been full of uncertainty and new changes to the classroom, clubs and athletics. Changes like major schedule changes, social distancing rules and remote meetings have all affected the way students enjoy all of the programs that Grayslake Central has to offer. As more and more teachers and students become vaccinated and social distancing guidance begins to change, how will next school year be different?
This year brought up some problems for our GCHS clubs. Student activities director Dianna Repp has been hard at work coordinating with club sponsors and school administrators to ensure that students still had a platform to stay involved in their clubs. 
"Many clubs learned how to be flexible, reimagine events and goals. They found better ways to communicate and I think also we're grateful for what was able to be done this year with the hard work of students and their sponsors," Repp explains.
Moving into next year there are a lot of unknowns, but generally, people are feeling optimistic about what lies ahead for our GCHS extracurriculars. 
Repp reflects that "The pandemic taught us a lot, but I feel it especially it reminded me how important it is for students to make connections with students and staff at school whether it was in person or remote."
Repp believes that some changes from this past year may even extend into future years. "Some groups will continue to utilize Zoom for students who need to miss a meeting here or there," said Repp. Allowing students to participate in a club over Zoom gives more members the chance to stay involved in their clubs.
Additionally, remote learning has been hard on club membership. "Getting new members was tough, especially for freshmen," said Repp, "I think we will focus on getting the freshmen and sophomores involved more than ever since some will have never been in the building."
As for athletics, the past year has also brought many challenges for student athletes. Shortened seasons, social distancing, mask restrictions and other precautions have been hard on our student athletes, but athletic director Brian Moe is optimistic for next year.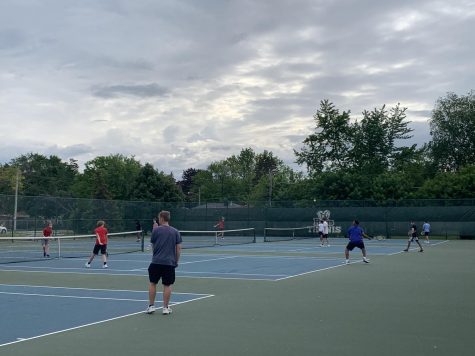 "[We] try to take the good out of the bad. I think that there are going to be a lot of good things that come out of this," Moe continues, "We are trying to merge what we've learned this year with what we have done in the past, hopefully, merging back towards normalcy again."
The athletics department has undergone a few upgrades over the course of the past year that can continue to provide exciting opportunities for the future. "We now have cameras in our field house and big gym, and on the stadium field so we can stream events live," Moe says.
Although nothing is confirmed, Moe is excited about promising news from IHSA about next year's sports seasons. "For right now, it sounds like the IHSA is planning on having us back to our normal seasons next year,"
Moe says. This is an exciting step in the direction of getting back to normal for student athletes who experienced shortened seasons this past year.
Moe is hopeful that the department will gain a new perspective for what they might have taken for granted in the past. "Hopefully [we feel] a sense of gratefulness when we do get back to normalcy," said Moe.