Les Miserables production overview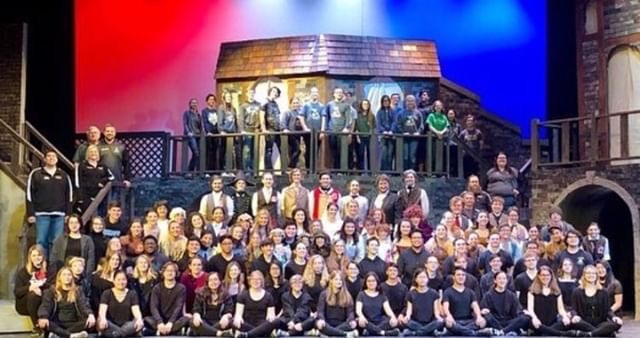 Students and staff produced the musical Les Miserables at Grayslake Central high school on Nov. 16 through 18. The company of Les Miserables worked on this project since early August: three months of work! Many viewers and participants felt that the musical consisted of a joyful and well-executed vibe throughout the entire process of the show. Viewers and members of the cast and crew felt the show was greatly produced  by both cast and crew due to the amount of professionalism everyone put into the production. 
       The director of the production, Maureen Ritter, is overall satisfied with the results of the musical. 
       "Everyone stepped up their game for Les Miserables. Some students took vocal classes, made sure their voice was healthy, and even put in extra hours to have an amazing result. I'm extremely proud of all of it, and it was the best thing ever," said Ritter.
       Ritter put over five months of preparation, energy and work into this production, which was showcased when all tickets for the show were sold out during presale.  Selling all tickets excites the entire production, but it is also causes students and staff to feel pressure on opening night.
       "I was surprised that it sold out as fast as it did. It was extremely exciting, but at the same time, I felt like it added more pressure to the production." said Ritter. 
       One of the leads, Sean Lambie, who played Jean Valjean, expresses that working on the project was a huge success, and he was surprised with the amount of students that participated in the production this year. 
     "The cast as a whole was my absolute best and favorite thing. I was also shocked to see how many students were participating in the production, there were about 64 auditions," said Lambie.
       The organization of Les Miserables showcases the talents. Tech crew member, Peyton Weiss, adds that the play emotionally and physically appealed to the audience, which deserved the standing ovations each night.
     "Being a part of [Les Miserables] was one of the most stressful but amazing things I've ever done. I was able to be a part of theater and help execute such an outstanding performance," said Weiss.