PSP: Supporting Students One Backpack at a Time
We do a great job in this school, preparing students academically and this class does a good job of preparing students to use the information they've learned in classes and apply it to real world situations," Mr. Chierice states.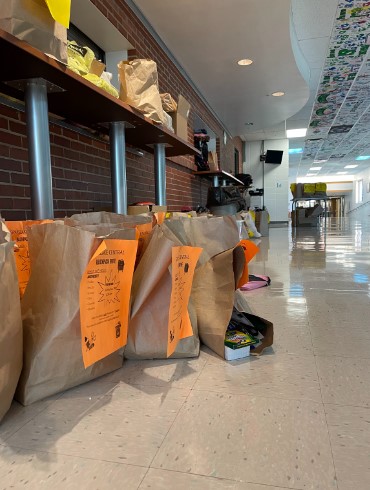 New and returning students enter Grayslake Central High School's doors for a new school year, with backpacks of different sizes stuffed with colorful notebooks, pens, and highlighters. The Public Service Practicum (or PSP) classroom gets filled with juniors and seniors with creative ideas and opinions to make this school year the best it can be, but first, they must support the students in the community that didn't have the flashy new school supplies for the school year that many arrived with.
Since 2005, PSP has held its well-known backpack drive. Back then, the school supplies were donated to support children in Iraq after history teacher; Glen Roeck saw children with no school supplies when he served there for 15 months. Dustin Chierico, PSP's current sponsor, explained that "We tried to do it again there, but we had trouble shipping the supplies so we decided we can just help kids in the local area and we've been doing that ever since then." The school supplies now get dropped off at Avon Township Food Pantry in nearby Hainesville, and they get distributed throughout schools in the area. 
Senior Riley Policht, who has been in PSP for two years, greatly appreciates the idea of a community staying together and coming together to help each other. "Being able to help schools get those supplies and to provide everyone with stuff that personally I would want to have in school, I think that other kids should have them too," Policht said. 
"Even throughout the year, if a backpack strap or zipper breaks then we are also able to [help with that]" Chierico explains; "What ends up happening is when you don't have things that you need, you feel unengaged in school and don't have a high self esteem." 
PSP does more than organize events that entertain the student population and support the community. According to Chierico, "It's a way for students to learn a lot of the skills that you don't learn in a traditional classroom. We do a great job in this school, preparing students academically and this class does a good job of preparing students to use the information they've learned in classes and apply it to real world situations."