GCHS dances the night away at Homecoming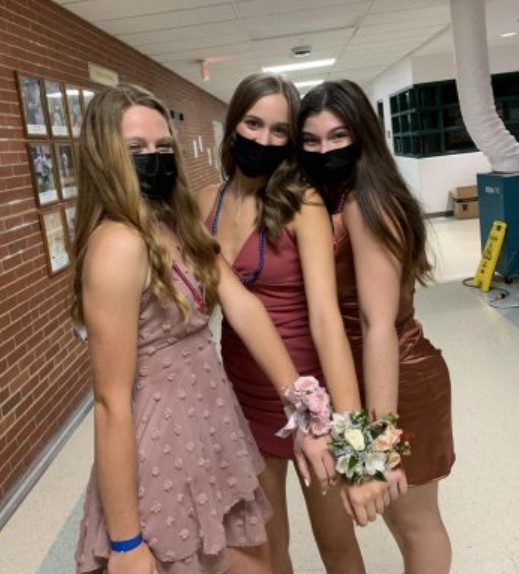 Homecoming is a school event lots of high schoolers have looked forward to throughout the years. It is a chance to dance the night away with your friends, get dressed up, and have lots of fun. Over the past two years however, Homecoming has changed in many ways, but that isn't necessarily a bad thing. The COVID-19 pandemic has had a massive impact on our school year including how Homecoming was planned and executed.
Student Council, the club that plans Homecoming along with many other school events, was planning something different for this year's Homecoming though. Traditionally, the school dances are held inside and the DJ and dance floor is located in the fieldhouse, light snacks and tables in the big gym, and karaoke in the small gym. Due to COVID-19 restrictions, they had planned for the dance to be outside on the football field, and have an outdoor dance which is something our school has never done before. Due to weather conditions, however, they split the time up into two two-hour slots and held it inside, like years before. Dance-goers were required to wear masks throughout the dance and had multiple rooms to dance and sing karaoke in. Even though the students were restricted a little bit by COVID, everyone still managed to have fun and make the most out of it. For the upperclassmen, it was a little different because it was different then Homecomings in the past, but for the people who have never had a Homecoming it felt relatively normal.
According to Student Council co-sponsor, Lauren Brownstone, they "Needed a backup plan. [The dance] was originally [going to be hosted]  on the turf but if [there was] high attendance [we] were going to have to split the dance," Brownstone explained. They had to hope for the best, but plan for the worst to happen.  Homecoming had an amazing turnout this year however, more so than the previous three years. Brownstone went on to say that, "There were close to 500 students," attending the dance this year.  According to freshman Sophia Rice, "It was really fun to have a normal high school experience with my friends." She also explained how "The dance felt a little crowded but still was everything I hoped for." Overall the dance this year had an amazing turnout and we can't wait to see how next year's dance turns out!