GCHS dance continues team culture despite changes
The dance team, like all sports this year, has had to adapt in major ways to various changes. However, the culture of the team remains intact.
Beginning on Feb. 18, the GCHS dance team recorded their routine to send into a competition. To those unfamiliar with dance competitions, sending in a video of a routine is not the norm. Changes like these have altered many sports, especially for the dance team. A quick turnaround from the beginning of the season to recording their first performance due to delays from the pandemic caused the start of the season to be a bit rushed.
"[We've] been slightly panicked, and we've been just trying to shove a lot of stuff into short practices because we had to prepare pretty quickly," senior dancer Sophie Bruce said. 
Along with a shorter time frame to finish and refine their dances, the JV and varsity teams merged, creating a much larger squad. Despite the unexpected change, the upperclassmen members welcome the newcomers and the newly merged team.
"We've tried to do little team-building stuff here and there. It's been a little hard, but right at the beginning, we had a little photoshoot to try to get to know each other. We're [also] doing letter writing: lower classmen had an upperclassman [partner] and we're just writing notes to each other to encourage each other and try to get to know each other more," senior captain Megan Schrimpf said.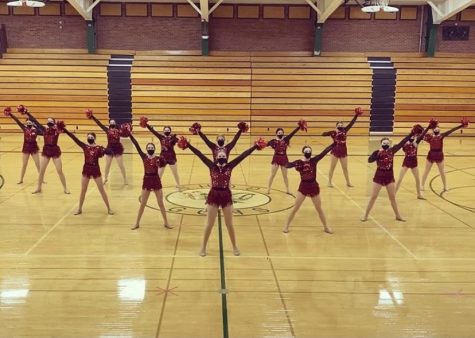 Traditions and doing things like letter writing help to cultivate a team culture, which was largely important even when the season was unaffected by the pandemic.
"We have this tradition of before we perform, where the captain double taps everybody's right foot. And while we wait to hear who placed where [at competitions], they have all the teams set out on the floor in circles, and we all hold pinkies for good luck. There are so many experiences that I've had on the dance team where it really makes it, like we're all so close because of all of the time we spend together and because of those little traditions," Bruce said. 
Traditions and culture still exist in different ways this year, providing possible new traditions to form. For example, instead of playing music and singing along on the bus ride home from competitions and games, the team created a playlist with all their favorite songs to sing along to while stretching. 
Despite the changes, seniors and underclassmen alike still get the opportunity to dance and experience the energy that goes along with performing, especially for the seniors taking the stage for the last time.
"We had a dress rehearsal in all of our costumes, and I was a little bit nervous because we didn't have that much time to put together the dance. And then, all of a sudden we performed it and we're all screaming for each other. And I was just [thinking] 'oh it's actually coming together.' It felt like a wrapping up moment to the season," Schrimpf said.