Choir blends harmoniously
A recap of the Choir Festival on October 21st, 2019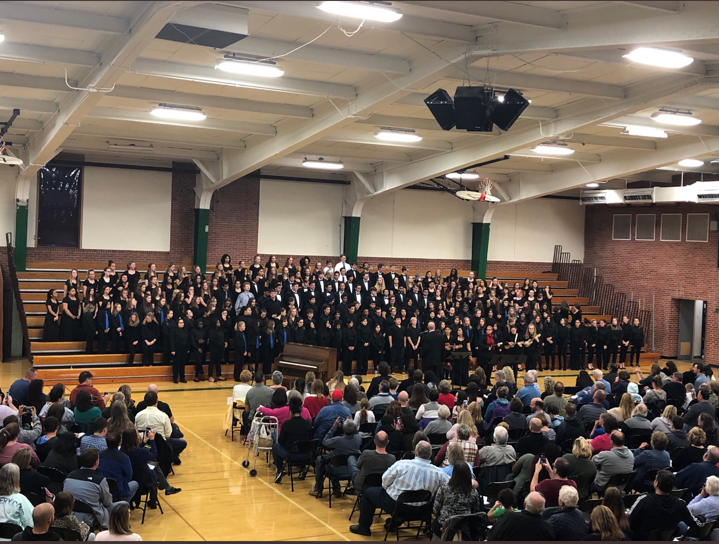 Annually, Grayslake Central's choir holds a blended concert with the North, Grayslake Middle School, Palombi Middle School, and Park School's choir, and this year, it took place on Monday, Oct. 21, at Central. This means that the four different choirs had to all sing at once, making sure that they stayed on the same key, and at the same speed during the blended songs. And, as far as the audience could tell, the blending was successful, evidenced by the multitude of applause that each song was given.
The Director of Grayslake North's Choir, Paul Nielsen, made an announcement before the last song, "Count On Me" by Bruno Mars, saying "I didn't get approval from the other directors, but if you feel like singing along, go for it. There's no reason why we can't all enjoy singing today." And sing along the audience did. Even if some people didn't know all the words, they sang along. The choirs came together and sang, but the unexpected singers, the audience, turned out to be the biggest surprise of all. 
"This concert is one of the ways that the high school choir directors look for new, talented singers. We're excited for it. I think they're kind of not sure how it'll sound with hundreds and hundreds of singers singing the same songs. But I know that's going to click when we have that rehearsal. Everybody's excited," said Michael Gutierrez, Choir Director at Central.
A few other songs sung at the concert were "Seasons of Love", "Let it Be", and "Ezekiel". They all seemed to get a favorable response from the audience. Gutierrez, after the concert, said, "I think the songs that the audience found most favorable were the combined selections "Seasons of Love" from the musical RENT and "Count on Me" by Bruno Mars because all middle school and high school students sang those pieces together." 
"[The singers] have been working really hard, since the beginning of the semesters, pretty much every day for the last two months." Gutierrez continued to say. "[The other participating schools] have similar results, since the beginning of the semester. It's a two month endeavor for all of us."