Fall sports prepare for beginning of seasons
As the fall sports gear up to compete, players and coaches must prepare for the season.
Girls' Tennis
The girl's tennis team is currently standing with a 7-6 record and is looking to improve throughout the season. According to head coach Chuck Lawson, many obstacles are already affecting the team as players get injured and general turnout numbers are down.
"I had to take some of the kids from the JV team to varsity just to make sure we had a full team, And of course, that's a lot to ask of those younger kids to play on varsity," Lawson said.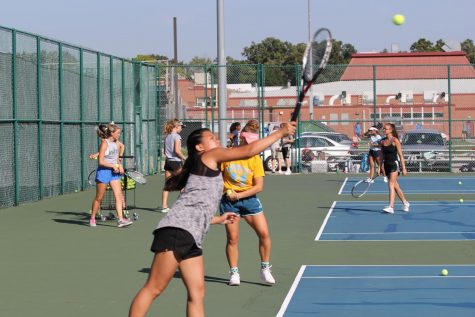 The team is rising to the challenge and trying to improve as many of the varsity players are out of commission.
"The girls are working real hard, they're trying real hard-the effort is there. Tennis is really a high skill game, and it just takes a long time to get those skills perfected. It's a work in progress, and we're getting there," Lawson explained.
Football
Led by the new head football coach Michael Maloney, the 2019 Rams are ready for the season.
"I am optimistic about the development of our players; we have a lot of guys that are building their fundamentals in order to compete at a high level. We got an outstanding coaching staff that's committed to making sure our guys are taken care of, and are providing them with what they need to be their best potential selves," head coach Maloney said.
Maloney is constructing practices where the team prepares to compete at a high level against challenging teams.
By shifting the environment, Maloney hopes to implement a "growth mindset" in the players.
"Our culture is going to be one that nurtures them and brings them along, but at the same time, we have hard standards that we expect them to rise to in order to compete at a high level."
"They've been told if they want to be champions, they have to act like champions, they have to prepare like champions, they have to compete like champions. And that just doesn't happen by hitting the switch," Maloney explained. Acclimating the younger players to the new mindset Maloney implements is a new challenge; however, Maloney is optimistic about the team.                    "I believe in our guys a lot. I think that their optimism, and their spirit, and their pride will drive them to improve every week," Maloney said.
Cross Country
For cross country, both the boys and girls varsity teams are preparing for a successful season. According to assistant coach Chris Palmer, the team has bonded tightly in a short amount of time.
"Right from the get go, I really feel like everybody was involved, and energetic, and excited. And again, that's just always a really good omen for what's to come," Palmer said.
Palmer also mentioned how once the freshmen got acclimated to the team, the unity throughout the athletes has contributed to a substantial dynamic between the runners. However, the team already experienced setbacks due to injuries.
"On the girl's side, we need to get healthy, or get healthier. We've got a few talented runners that I think could contribute just on the varsity level this season, but they're just trying to come back from injury," head coach James Centella explained.
As for the boy's side, Centella mentioned how many new runners are going to have to compete on varsity, a bigger challenge. "They're running varsity to…be able to step up to the challenge and handle the pressure, which I think they can, it's just going to be something new for them," Centella said.
Palmer and Centella are looking forward to a successful season.
"Our goal is to win varsity and JV conferences. We can't control what the other teams do, but we're going to try to train and work hard for ourselves to be in a position
to at least be in the mix for that," Centella said.
Boys Soccer
The varsity boys soccer team, coached by Thomas Hamilton, is beginning their season with a record of 5-8 overall.
The team already faces obstacles with injured players; however, the new team is stepping up to the challenge.
"It's been good to see that for every injury, we've had somebody that has stepped up and taken on that role and succeeded. We have, 21 people on our varsity squad right now, and all 21 of them we know we can depend on," Hamilton said.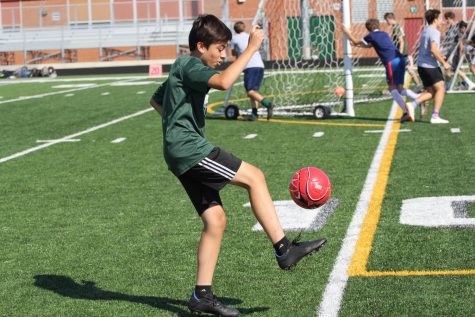 The team works on setting goals during practice to be able to improve their gameplay and win against tough teams.
"We wanted to look at what qualities we want to possess, and one of those is hard working. And [on Aug. 29], we worked tirelessly, we didn't let the other team have any space with the ball," Hamilton explained, referring to their game against Vernon Hills.
The team is continuing to improve and adjust to the new assistant coach and new team members. Despite it being early in the season, Hamilton is proud of the progress the team is making.
"I'm just really proud of what these boys are doing… the amount of time that the kids in this building put into what they do, whether it be in theater or soccer, it's just really cool to see," Hamilton said.
Golf
For both boys and girls golf, they are off to a strong start for this season. Girls golf won con- ference and boys golf is on their way to achieving similar goals. According to boys head coach Jim Mazzetta, the team is looking to get better with every match.
"Hopefully, we're going to get better as the season goes along and they start playing a little closer to where they should be," Mazzetta said. To obtain this goal, the team is working outside of the conference.
Playing against different teams and seeing new courses is helping the team improve throughout the season and reach the goal of becoming the best they can be. "We're driving three hours [to] see different golf cours- es and different teams. Usually, we'll go to the best tournaments that we can find so we're playing against top quality teams," Mazzetta explained.
The mental aspect of the game is an area of improvement for the players according to Mazzetta.
"So much of golf is mental. If they can overcome that, their problem where they don't get in their own heads, then they should be good," Mazzetta said.
The team is looking towards the freshmen as new potential in the team.
"We had a real big class of incoming freshmen. There's a lot of potential there, and I think we kept seven freshmen this year, which is the most ever," Mazzetta said.
With this new group of students, the boys golf team is looking forward to improving and becoming better acquainted with the game.