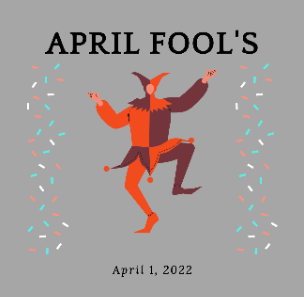 Alexand
When the beginning of April rolls around, everyone stays cautious to not become a victim of any pranks on the most troubling day of the year: April Fool's Day.
As different cultures have different traditions celebrating April Fool's Day, here in America, pranks or jokes are shared with family and friends for the whole day, but the history of this holiday is still a mystery, taking many different forms over the years. 
Although it is not certain where April Fool's Day originated, some believe it dates back to 1582 when France switched to the Gregorian calendar from the Julian calendar. The new year of the Julian calendar started around April 1st but with the change to the Gregorian calendar, in which the new year started on January 1st, people were slow to the change and still celebrated April 1st as the start of a new year.
According to History.com on people who did know about the change of calendars would put a paper fish on people's backs who were celebrating the old new year as a joke of an "easily caught fish and a gullible person" however, there is more than one theories of how April Fool's Day came to be.    
Another theory says it dates further back to the reign of Emperor Constantine (AD 280-337) during the Roman Empire era. The theory goes that a group of his jesters convinced Constantine to make one of them "king for a day." Constantine picked a jester, supposedly named "Kugel," and he declared that day would be named April Fool's Day. However, this story has been debunked. 
According to Stephen Winick for the Library of Congress, "the story itself was an April Fool's Day prank, pulled by Boston University professor Joseph Boskin in 1983" Winick shares.  
The final theory is that it took place during the Middle Ages around January 1st, primarily in France. There was a mock bishop or pope who would prepare a ritual while officials change places. According to Encyclopedia Britannica, "These feasts had become a burlesque of Christain morality and worship."
Even in the history of April Fool's Day, there are jokes and pranks in almost every story making it difficult for historians and the public to find why April Fool became the holiday it is today.
Historians have fought over what story is believable in order to get a more accurate representation of the foolish holiday, but all can agree that it is just one huge prank that the world seems to be playing.