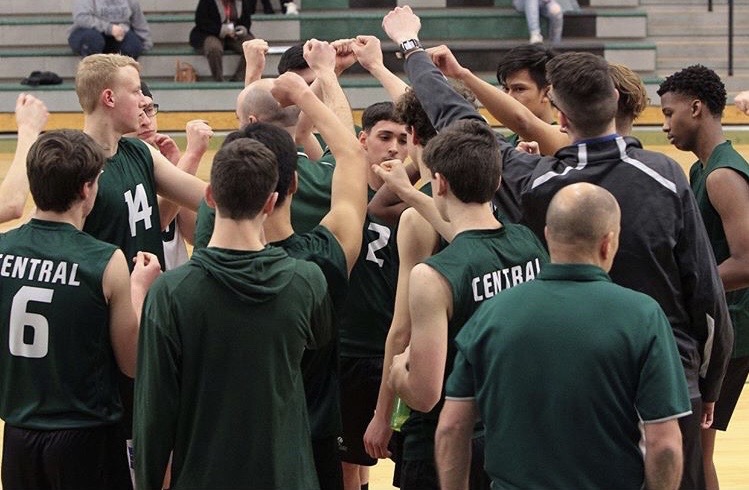 Photo provided by Dan Erlenbaugh
Not only did many students miss their spring sports and team dinners, but the coaches also had to deal with their season being canceled. While many coaches are filled with sadness, they understand the risk of continuing the season. As stated by Girls Track and Field coach Shawn Murphy, "Safety is the number one priority." 
Many of the coaches had goals and plans for this season that were disappointingly cut short. The coaches had similar dreams of winning conference and winning the regional title and even qualifying for state, but the outbreak of the coronavirus will not get in the way of their goal, they still hope to continue their plan for the 2021 season. 
With this goal in mind, some coaches do expect former team members to try out for the 2021 season. They also encourage people to improve on their developing skills. Varsity Boys Volleyball Coach Dan Erlenbaugh states, "If some of the guys have a sibling they can play with, they can improve once the weather is nice enough outside." 
For some sports like track and field and tennis, it can be difficult to practice on your own without the proper setting and equipment, but it is still encouraged for athletes to build their strength at home by whatever equipment they can find. For example Girls Track and Field coach Murphy stated that, "girls track and field have been creative and use anything they can to get stronger, faster and improve their skills." 
Many of the coaches are disappointed that they were not able to finish this season with their team, especially the seniors but the coaches have not failed to recognize their hard work throughout the years. Coach Chuck Lawson speaks for all coaches when he stated, "They are great kids who have worked so hard… I appreciate their hard work and dedication. I wish them all success in the future."
While all are in pity for the seniors, not all hope is lost. Coach Erlenbaugh enthusiastically explains, "Myself and some of the other coaches are discussing having an alumni game maybe during spring break 2021 or during the summer of 2021 to give the class of 2020 and other alumni a chance to play again." 
Coaches are also taking advantage of the time. "The one positive for me is I was able to spend a lot of time with my family. During the season I usually don't get to see my kids much, " says coach Erlenbaugh.
While this is a heartbreaking situation, coach Murphy sees it as a learning opportunity to not take things for granted. "Through hard situations, we learn to dig deep and push ourselves farther than we knew we could.  Moving forward we won't take our facilities for granted, we will push harder at workouts, we will value our teammates that much more and we will become a tighter family."