February Sports Update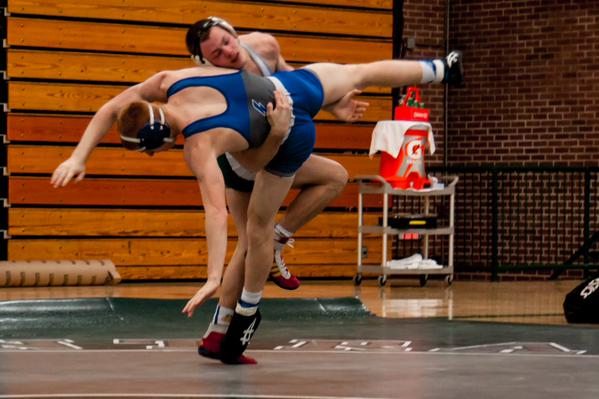 Hang on for a minute...we're trying to find some more stories you might like.
Wrestling
The wrestling team has been working to achieve its goal of winning the regional tournament by working hard, staying healthy and working as a team to have a  successful season.
The team's match against Grayslake North was head varsity wrestling coach Mark Stewart's favorite match. They beat North 42-30; up until the past two years, they had not won against them in at least six years.
Working hard at practices as well as meets helps the team to improve.
"[The team has] been putting in a lot of effort and staying focused," said senior David Thiel. "Working hard at practice keeps us in shape and makes us stronger so we can work even harder at our meets."
Encouraging each other and being able to depend on each other has played a role in their success at meets.
"Working well as a team lets us know that we have the team's support and helps us to have more confidence during matches," said senior Jonathan Makey.
The team thinks that they have a good chance at regionals based on of what they have seen so far this season.
"Our goal all along has been to win the regional title, and I think it is possible because the kids work really hard and they all put in a lot of time and effort," said Stewart.
In order to prepare for regionals, coaches are trying to encourage the wrestlers to stay healthy and make good choices so nothing holds them back.
"Our kids are already prepared," said Stewart. "They know what they need to do to succeed in regionals. We plan to slow down to keep them healthy, and everything else will fall into place."
Boys Bowling
As the boys bowling season winds down, the team looks ahead to see how they can improve in the future.
The team had a few kinks they had to work out and is looking forward to changing things next year.
"Because there is not a bowling facility closer to campus, a lot of practice time is sacrificed, making it difficult to work on skills in the beginning of the season," said coach Ted Soenksen.
Soenksen plans to promote the team all year by hosting off-season clinics and camps for not only high school students, but also for grade school students that will feed into GCHS.
The camps will also help members of the team keep up with bowling so they can continue to improve their skills.
"Bowling was easily the best thing I have done at GCHS," said senior Trent Miller. "I am so grateful to have met the people I did."
"I am already excited for next year, knowing how successful our first ever team has become," said Soenksen.
Girls Bowling
The girls bowling team has been working during practice, games and tournaments to get better every day with the help of coach Dianna Soenksen.
"We are hitting scores we were not able to hit last year," said Soenksen.
All of the girls have potential and Soenksen sees great things happening in the future as the girls bowling team approaches regionals on Feb. 6.
The girls have a lot of strengths and they work together as a team.
"They bowl well together, but more importantly, they are there for one another," said Soenksen.
"Every practice, we get closer and closer to achieving both our individual goals and our team goals," said senior varsity bowler Celeste Amaral.
Girls Track
With five returning state qualifiers and a super strong freshman class, head coach Shawn Murphy has very high expectations this year.
"This has been the best preseason in all three years I've been at GCHS," said Murphy.
This year, standouts include top senior runner Yazmin Lomas. Returning state placers include juniors Katie Schroeder and Alexa Schmidt. Joining them will be  junior qualifiers Maddie Jacobs, Jazmynn Foster, Sara O'Malley and Umaiyal Sridas.
For this year, due to the team being bumped to class 3A, according to Murphy, it's going to be especially hard to compete  in the postseason due to GCHS being one of the smallest programs in 3A.
Despite the class change, Murphy is still setting high expectations for the team.
"Our goal for this year is to win our first conference championship," said Murphy.
Boys Ball
After a 3-1 start to the season, the boys basketball team has faced a challenging schedule that won't get any easier toward the end of the season and into the postseason, according to head coach Kosta Kougias.
Their tough schedule began at the State Farm Holiday Classic in Bloomington at the beginning of the season.
"We [knew] we had the talent to beat some of the teams there," said senior and team captain Michael Benko. "But instead of beating them, we beat ourselves up instead."
Senior David Llorens has hope for the team after their 51-46 victory over Dundee Crown on Jan. 16.
"The season has not gone how we wanted it to go so far, due to us coming out of the gates slowly," said Llorens. "But, in our game against Dundee Crown, we played the way we always should: unselfishly, which [involved] a lot more passing. Hopefully things will turn around."
The boys did quickly turned it around at home on Jan. 20th with a 50-46 win over cross-town rivals Grayslake North.
"We were losing in the first half of the game. We had 17 turnovers in the first half alone, and they weren't even playing us that tough," said Llorens. "Then we started passing and taking smarter shots. Our defense [improved], only allowing their best player, Aiden [Einloth], to score two points when he scored 14 in the first half."
In order to keeping winning more games as they head to the postseason, Kougias' goal is for the boys to play four consistent and smart quarters of basketball.
"We have not always played smart ball, but the boys play hard for all 30 minutes," said Kougias. "They are a very close team. No matter what happens on the court, they have each other's backs, and always pick each other up."
Girls Ball
Despite their record of 7-14, head coach Steve Ikenn believes that the girls basketball team has improved from the start of the season. The girls have improved, and have found ways to play competitively despite their physical size.
The girls have now won three straight games, defeating Grant 42-29, Woodstock 47-44 and Crystal Lake Central 45-35.
"The girls are playing much better basketball, and are playing better as a team," said Ikenn.
As their season comes to a close, the girls now enter the playoffs. After their recent victories, Ikenn feels optimistic.
However, with the increase in school size for this school year, the girls were forced to enter class 4A for the playoffs. They will face much bigger and better teams they have in previous years. Ikenn said the girls have played 4A teams prior to the playoffs.
In his first year coaching, Ikenn brought the girls to the elite eight. Also, in his last four years coaching, the team has won its regionalthree out of four times. "Many of our players have had success," said Ikenn. Senior Lauren Spalding was on a team that won the sectional championship her freshman year.
Spalding, one of the team's standout players, averages 10 points per game. Seniors Connor Eschrich and Kayley Larson lead the team in rebounds.
"Seniors last year were a big part of the team," said Spalding.
"This year everyone had to take on new roles," added senior Juliana Frusolone.
Boys Track
With the start of a new season, the boys track team is training hard in hopes of getting multiple runners to qualify for state.
Already looking at a lineup of more than 80 boys, head track coach Brent Pitt is optimistic about this season and what it may bring.
"We are going into the season with high hopes," said Pitt. "We did lose a little bit this year, but I feel confident that we have runners that can step up and take the spot of what we lost."
Even with a minor loss in runners, Pitt still believes that the team will compete at state this year with more qualifiers.
"If you want to put the time in, if you want to put the work in and you excel at what you're doing, then you're going to qualify," said Pitt. "And these kids work hard."
Varsity Poms
Both Poms teams scored their highest number of points all season, while competing in their first home competition of the season.
On Jan. 18, GCHS hosted its first Poms invitational, proving to be a successful day for both JV and varsity Poms.
"Both teams did really well and got their highest scores than in any other competition," said JV coach Naomi Pierce. "JV was 0.7 points away from placing [at this competition.]"
Since this was JV's last competition of the season, they are now focusing primarily on performance and technique for any
future events.
"The girls are starting to teach each other new choreography during events like basketball games," said Pierce. "When it comes time for competition, they have had good opportunities to practice choreographing their own dances."
On Jan. 24, varsity competed at sectionals and placed 8th  out of 15 with a score of 81 points.
"I am very happy with where the team is now," said varsity Poms coach Jenni Carlson. "These girls come to practice on a daily basis ready to give 110 percent and be the best they can possibly be."