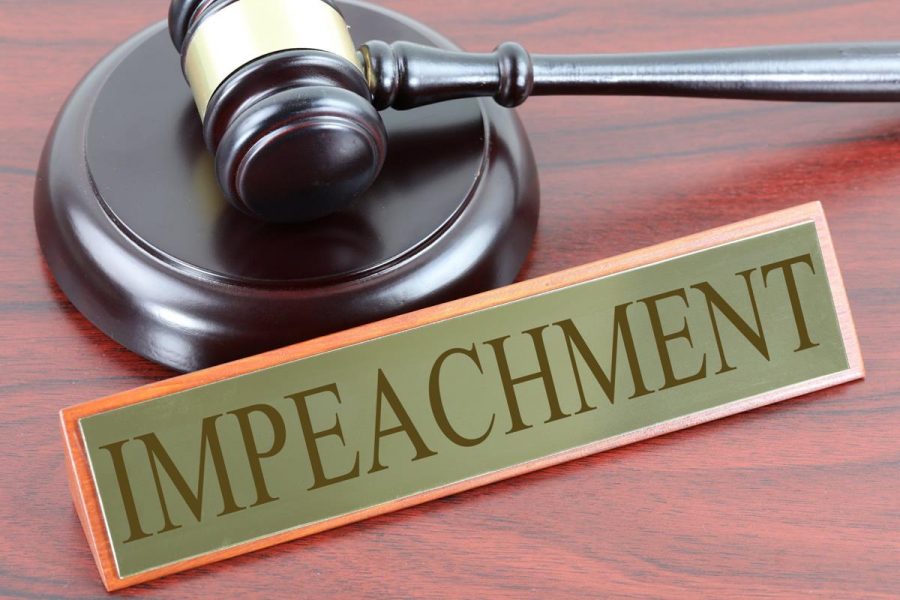 Photo provided by The Blue Diamond Gallery
On Feb. 5, 2020, the Senate had a final vote to acquit President Trump and clear two articles of impeachment against him. Senator of Utah Mitt Romney is the only Republican to vote on convicting the president on the first charge.
On Jan. 31, 2020, with vote of 51-49, the Senate voted to deny subpoenas for evidence and witnesses as a part of Trump's impeachment trial.
Impeachment managers' opening arguments occurred from Jan. 22-24 on why to convict Trump. From Jan. 25-28, Trump's lawyers then argued on why he is not guilty and should be acquitted. Afterwards, the senators, for sixteen hours, wrote their questions, which Chief Justice of the U.S. John Roberts read out loud for the House impeachment managers and Trump's defense team to answer.
Trump is the third president that has been impeached and acquitted. Presidents Andrew Johnson and Bill Clinton have been impeached by the House, but not removed by the Senate.
There are differences between impeachment and removal. The House first has the authority to impeach or bring charges to the President for misconduct in office, and then the Senate decides if they want to convict (remove immediately) or acquit (stay) in office. A two-thirds majority vote of the Senate is needed to convict the president. The Senate contains 45 Democrats, two independents and 53 Republicans. In Trump's case, convicting a president can be challenging if Congress is composed of the majority of the president's political party.
U.S. government teacher Georgia Brown explains that it would be "highly unlikely" for 20 Republicans to join the Democrats and independents for the two-thirds vote, thus Trump's acquittal was predicted by many.
In Trump's impeachment case, the first charge against Trump is the abuse of power. The House accuses the president of holding back taxpayer money of roughly $400 million approved by Congress as military aid. They accuse Trump of using that money instead to his own advantage in the upcoming presidential election in November by pressuring the president of Ukraine, Volodymyr Zelensky, to investigate former vice president Joseph Biden, and his son.
"Joe Biden is a candidate in the 2020 election, so the President did this for his own personal game. Therefore, this is an abuse of presidential power," said Brown.
The second charge is obstruction of Congress. According to U.S. Representative of Illinois's 10th district Brad Schneider, "the President has refused to allow any of the people who work with him or for him to testify in Congress. He's refused to turn over any documents, even on the power of subpoena (an order to a person to attend court as a witness) from the Congress… He has gone out of his way, taking extraordinary steps to block… the House of Representatives' ability to collect all the facts to make a full assessment."
When explaining his experience throughout the House's impeachment process, Schneider says that "it was a very strict process of 'nobody wants to be in this situation' and no one I work with wanting to come to Congress to be a Representative to impeach the President, that's not what we hope to do. Our focus is how do we best serve our constituents and how do we work on policies that advance our nation forward. But I followed the hearings, I read through the testimonies, transcripts from the depositions of various witnesses that were taken by the Intelligence Committee, and the hearings that were conducted by the Intelligence Committee and the Judiciary Committee."
According to Senate Assistant Minority Leader Richard Durbin, when the Clerk of the House came in with the articles of impeachment to the Senate floor, "there was a change in the atmosphere and environment of the Senate.  As Senators, when we took the oath administered by the Chief Justice swearing impartial justice, we needed to remember that not only will America be watching, but that, in turn, history will hold us accountable."
Schneider also emphasizes the importance of citizens to be involved in what's going on in government, including students. "In the context of impeachments, we are bystanders…You students have an opinion on and should be willing to express your opinion, but also willing to continue to learn and let your opinions evolve. If we had more participation in our government process, at the student level…we would have a more responsive government, which I think would be a better government."