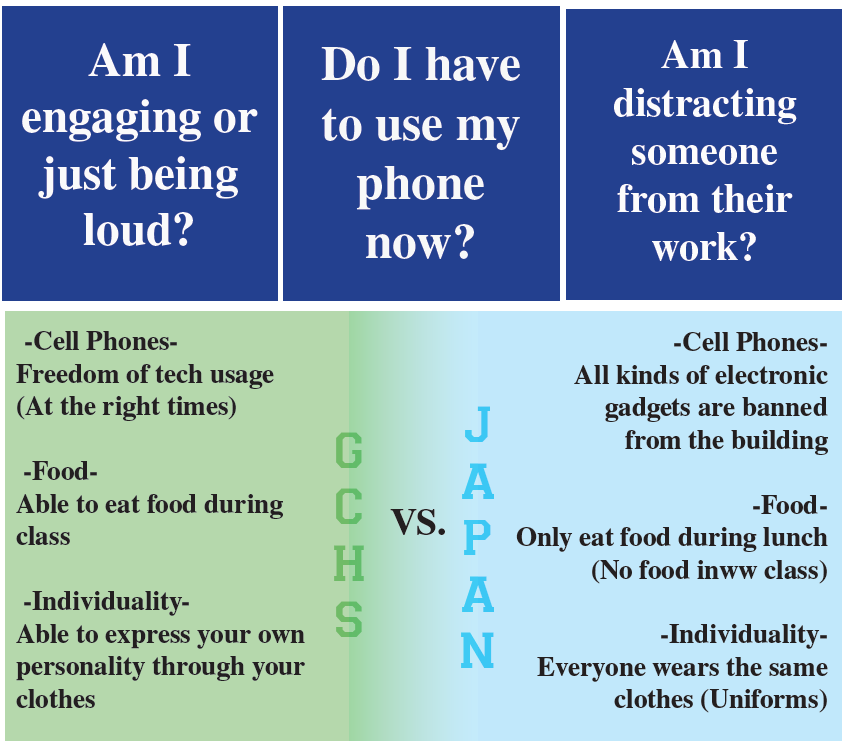 Comparing my school experience here at GCHS and my experience in Japan, here are a couple of pros and cons I've noticed regarding student behavior.
In Japan, there are several strict rules on classroom behavior. From food to clothes, there are so many restrictions but because of those regulations, I think it's easier to focus in class.
On the other hand, here at GCHS there is so much freedom. It's easier to give into those temptations like using your phone
or talking to your peers about something unrelated to the class. Personally, I like
this freedom because it's less stressful, and it gives me the chance to become more independent but sometimes, I still miss those restrictions. When I was talking to GCHS junior English teacher, Alexandra Ehr, about student behavior she mentioned that, "good behaviors are just always listening to the instruction and doing what's asked in a timely fashion." Although I agree with Ehr that GCHS students have great student behavior, I think there is always room for improvement. Here are a couple of questions you can ask yourself to develop some good habits.