An inside look into Les Miserables inner-workings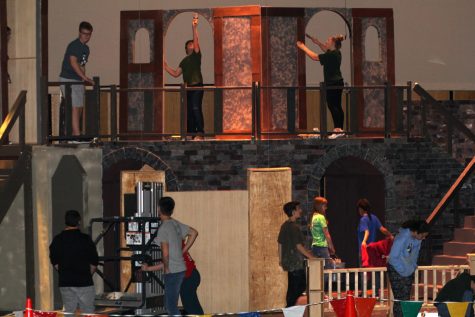 In the upcoming production of Les Miserables at GCHS from Nov. 16-18, students and faculty alike work backstage to build a story about the French-Revolution world. Offstage, Les Mis requires many hands on deck to create sets, lights, agendas, and props to get everything done in time for the musical. 
"We have about 65 people who are just doing backstage work," Maureen Ritter, director of Les Mis and English teacher at GCHS, said. 
Ritter has the responsibility to plan out where  actors and sets go and how they get there, and these plans for the production come alive in the form of student-constructed sets, props and costumes. Sets specifically provide a physical and visual representation of the story, and senior, Romel Jovel, is the crew head to make this happen.
"You know, the first thing you see when you walk through that theater is obviously the set, and so we make sure everything is built quality, safely, and beautifully," Jovel said.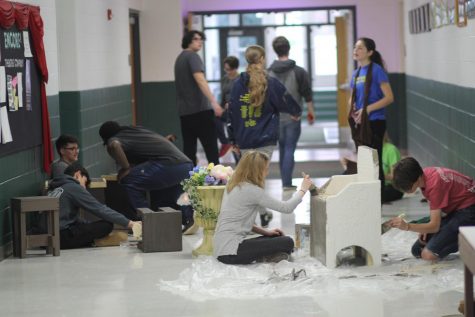 Actors and crew members work together to create the world makes for a more efficient and believable production.
"The actors can do a bang-up job, but if the world that they're building backstage doesn't look realistic to the audience, if the tech work isn't there, then the audience doesn't appreciate the actors' performance in the same way," Ritter stated.
Actors in the show have to work during and out of rehearsal to work on character development and their skills.
"You have to really work a lot outside of rehearsal just to develop the character more. And then you also have to do a lot more work during rehearsal because since you're a principle role, you're kind of stuck out from the rest of the ensemble," senior Liyana Ishumuddin, Fantine in Les Mis, stated. 
Since many underclassmen are involved, upperclassmen have a responsibility to make sure everyone is on task and ready to go when showtime comes around. "I have to set a good example for the rest of the cast, especially because this is my fourth year as a member of Encore!," Ishumuddin stated. 
Although actors and crew members have quite different roles on and backstage,  preparation for rehearsal and the show is vital. As the director, Ritter has many tasks to complete before coming to rehearsal.
"I build a schedule where I take everything into account… the dancing, the blocking the movement on stage, the vocal rehearsals, the character work, all of those things I try to schedule." Ritter said.
Actors have to come to rehearsal with dances and lines memorized to make the production come alive  as well.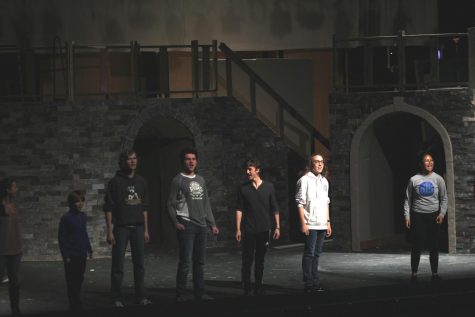 "Just remembering where you are blocked, remembering your dance moves, just practice, practice, practice and then that's what's going to make the show better," senior Emmah Pirie, Cosette in Les Mis, said. The cast, including actors and ensemble members, create the whole of the performance.
"I think the cast as a whole is the most talented cast have ever worked with, like every single person contributes in their own way and it's pretty incredible," senior Sean Lambie, Jean Valjean in the musical said.
Audiences can look forward to many professional and exciting aspects of the show.
    "I think that the audience should really look forward to the amount of character development that we've put in to all these characters, and then also Les Mis is a really iconic show…But we're trying to put our own kind of twist on it, or own interpretation of what the words mean, and how the actions like develop   character," Ishumuddin   stated.
"We're really taking chances for the whole scenic point of view, and I think once the show comes out, it's going to be one of the more exciting, like, two hours that you can spend on a weekend evening," Jovel said.
With large, elaborate sets,  fight choreography, and professional-grade acting and singing, Les Mis is one of the biggest productions Grayslake Central has ever done.  Come see this production November 16-18, 2018!