GCHS art students draw up show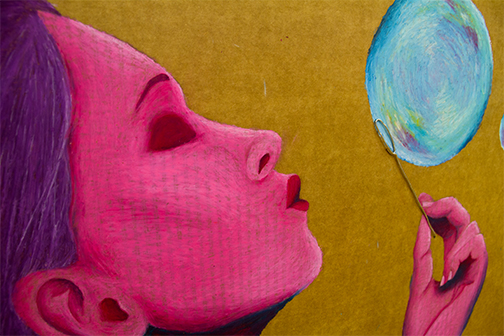 Hang on for a minute...we're trying to find some more stories you might like.
Every year, GCHS puts together and hosts an art show presenting student art work including paintings, ceramics, 3-D structures and many other forms of art.
Students from each art class were featured in the annual art show. Some pieces were serious and highlighted problems in today's society, while others were more lighthearted.
"I was going for a psychedelic and easy-going type of feel for my pieces," said senior Priscilla Martinez.
Martinez had four pieces in the art show, most of which featured tessellating lines in the backgrounds with solid figure slaid over the top.
"[My pieces are] different; I like to use different colors than one would usually use," said Martinez. "[For example], drawing my skin purple in my self portrait."
Senior Maddie Bright was one of the students who was featured in the art show. In  fact, her work was displayed in front of the doors so it was the first thing the crowd of observers saw as they walked in.
"I [wanted] my art to catch people's attention by being lighthearted and carefree," said Bright.
The art show is one way students can express themselves and have their artwork viewed by their peers.
"I would like people to be able to experience the lightheartedness, and be able to forget the rest of the world and enjoy that life is about having fun and the simple happy moments," said Bright. "I don't really make art for people to take seriously yet."
Even though the art show happens every year, the artwork is always different and worth the visit.
"I just feel lucky [that] people got to come and see my work," said Bright. "It was a good opportunity." said Bright.